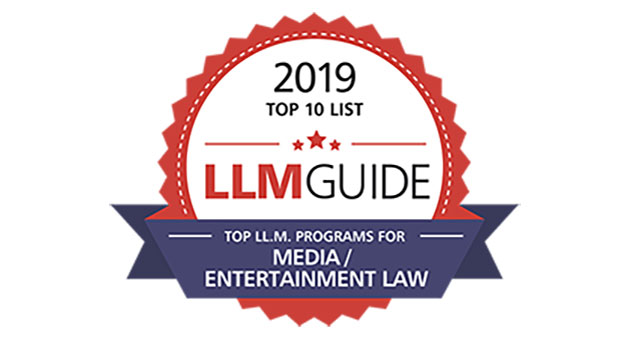 The University of Miami School of Law has been selected among the top schools in 2019 on LL.M. GUIDE's Top 10 Global List for Entertainment and Media Law. LL.M. Guide is the premier website with information on worldwide LL.M. programs and includes a directory of over 700 law schools.
Miami Law was included in the Top 10 listing due to the Entertainment, Arts and Sports Law LL.M. Program and its strengths in the areas of concentrations, existing rankings, international balance, and location - key factors in llm-guide.com's ranking methodology.
A Unique LL.M. Degree
Available only at The University of Miami School of Law, and taught by prominent faculty and practicing attorneys, students study this combined LL.M. degree to focus on areas of law that in today's world are expanding, converging and at times, intersecting. Hands-on, practical learning teaches students how to negotiate and draft transactional agreements within the specific entertainment, arts and sports industries.
In response to the program's top 10 ranking, Harold Flegelman, Director of the Program and the Entertainment Law Track said, "I am so pleased to see this acknowledgment of the effort that has been made by the many people involved in creating and sustaining this Program."
Ability to Concentrate Studies
The blended nature of the LL.M. enables students to maximize their studies and create a curriculum particular to their goals.
Students get a wide-range of skills in the interconnecting areas while honing their specific area of interest with a choice of three specializations: the entertainment law track, the sports law track, and the arts law track.
Location
Students in the LL.M. have access to a local network of mentors, practicums and externships.
As a center of music and film and a hub for the Hispanic media industry, Miami is fueled by an influx of international ideas and has witnessed the growth of both homegrown companies and international offices. These companies include Fortune 500 Latin American headquarters for: HBO, CAA, BBC, Nickelodeon, Discovery Networks, Sony, Disney, and ESPN.
Entertainment companies engaged here in motion picture, television and music production and distribution also include Telemundo and Univision.
For art, Miami is the exclusive American host of Art Basel with more than 250 of the world's leading galleries participating, drawing over 70,000 visitors each year.
International Perspective
This specialization provides U.S. and international attorneys and law students superior training and an edge when breaking into this competitive industry.
In addition, foreign lawyers and law students interested in understanding American law can complete an option for international lawyers to combine this LL.M. with their studies to provide a distinguishing factor in a globalized industry; there is also the LL.M. + Intensive Legal English for those who need to improve proficiency.
Rankings
This is not the first time the program has been recognized. In 2017 Billboard ranked it a top program for music law, and now llm-guide has placed it in its top rankings.
Featuring an extensive range of law school profiles, an active discussion board, and an array of editorial content, LL.M. GUIDE is the premier web destination for LL.M. applicants. While its Top 10 Lists are not intended as definitive or scientific rankings, they take into consideration offered concentrations, existing rankings, international balance, and location.
"It is an honor to be included in so distinguished a list of educators," said Flegelman.
More on the Entertainment, Arts and Sports Law LL.M. Program at Miami Law