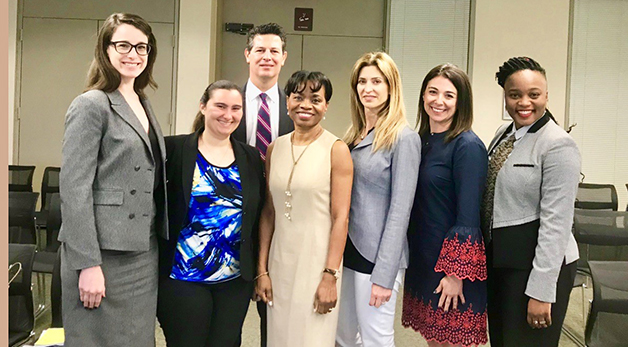 Lauren Alvarez, Samantha Iglesias,  Eric Rodriguez, County Attorney Abigail Price-Williams, Geri Bonzon Keenan, Erica Zaron, and PREP Alum Nykeah Cohen
Every spring PREP students present at The Miami-Dade Public Defender's Office and The Miami-Dade County Attorney's Office. This year's presentation was once again well attended and provided a terrific learning experience for students and attorneys alike.
PREP students, Rebekah Molasky, Jose Paez, and Lauren Alvarez developed the presentation, under the supervision of PREP director, Jan L. Jacobowitz, which included issues such as conflict of interest, technology, and judges on social media.
Rebekah Molasky employed facts from the recent Florida Supreme Court decision, Law Offices of Herssein & Herssein, P.A. v. United Services Auto. Ass'n, as a vehicle to generate discussion about the repercussions of judges and attorneys Facebook friendships. She also presented a hypothetical that contained technology issues.
"It was really interesting to hear the attorneys' talk about the topic before I presented the previous rulings on the topic," said Molasky. "The attorneys differing opinions reflected the debate that is also contained in the 4-3 opinion." As for learning the technology portion of the presentation, Molasky said, "It was definitely challenging, but interesting to learn about technology in an ethical context." 
Miami-Dade Public Defender Carlos Martinez thanked the students in a letter in which he indicated that the training was well-received and contributes to the attorney's effectiveness. 
Abigail Williams, the Miami-Dade County attorney, thanked PREP students Samantha Iglesias and Lauren Alvarez, who presented. In fact, Williams was in attendance and an active participant in the training. PREP alum and assistant County Attorney Nykeah Cohen was also on hand to participate in the lively conversation that ensued on topics ranging from social media's impact on the public records act, sunshine laws, and government employees' right to support political candidates to the supervision of nonlawyers, technology, and incivility on Facebook.
"I appreciated being able to synthesize the laws governing lawyers with those governing public employees and engaging with lawyers who were so clearly concerned with their ethical duties," said Iglesias.
PREP is an award-winning program that develops continuing legal education ethics training for the legal community. The program combines the attributes of an ethics institute and an ethics clinic, has dedicated hundreds of student hours to public service and has educated thousands of members of the Bench & Bar. During training, students are often able to make a positive impact on attendees by prompting them to consider and reconsider their approaches to some of the toughest ethical dilemmas that may arise in the practice of law.
 
In 2012, PREP was recognized by the ABA with its E. Smythe Gambrell Professionalism Award, the leading national award recognizing programs and projects contributing to the understanding and advancement of professionalism among lawyers and judges. In addition to presenting ethics training, throughout the semester PREP students publish blog posts regarding the nation's newest ethics opinions. The blog, Legal Ethics in Motion, can be found here.