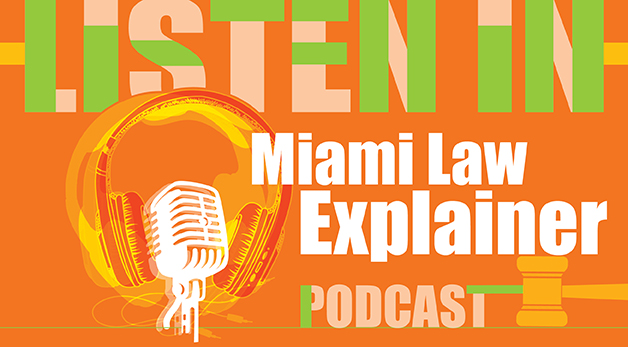 In a bonus episode, the Miami Law Explainer podcast takes on the hot topic of compliance with Miami Law's own resident expert Marcia Weldon. 
A surfeit of shady business practices, allegations of financial misconduct, and widespread money-laundering schemes have plagued businesses over the past several years. Facebook was the poster child for data privacy and data security fails, Telsa's Elon Musk got in the weeds using "false and misleading" information on social media, while Wells Fargo suffered the slings and arrows of secretly opening 3.5 million unauthorized deposit and credit card accounts, according to Compliance Week.
Weldon, a professor of Legal Writing and a lecturer in law, comes to Miami Law from the Fortune 500 company Ryder, where she was vice president of Global Compliance and Business Standards. She has testified before the House Financial Services Committee in Congress on the unintended impact of Dodd-Frank Financial Reform on corporate compliance programs. 
Weldon is the co-host of the Integrity Factor, a new podcast launching in June from Tom Fox's compliance network. Fox is the international best-selling author of "Lessons Learned on Compliance and Ethics." 
Fox and Weldon are both involved in the "Managing Compliance Across Borders Program," an intensive, interactive executive-level program aimed at established compliance professionals as well as legal, business, and other professionals who deal with compliance or are contemplating compliance careers on June 26 through 28 at Miami Law. The three-day program is a joint offering from Miami Law and the University of St. Gallen Executive School.
MORE INFORMATION: Managing Compliance Across Borders Program, June 26-28
REGISTER NOW Managing Compliance Across Borders