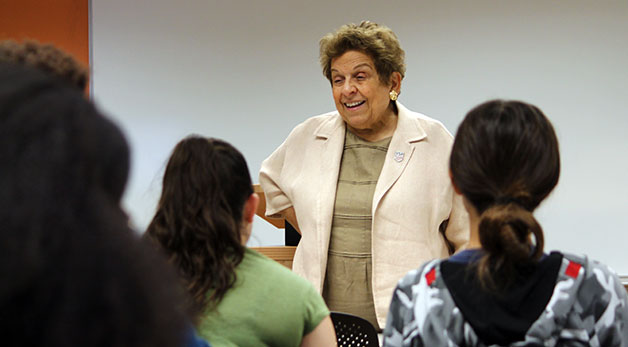 Congresswoman Donna E. Shalala addressing students at First Star UM Academy
"You need to plan your own strategy. Don't wait for someone else to plan your future for you," said Congresswoman Donna E. Shalala. "And stay away from for-profit universities."
The former University of Miami president was talking to a roomful of First Star UM Academy students, bouncing from migrant children detentions, separating siblings in foster care, and, of course, a little bit of football. 
First Star is the national organization dedicated to improving the lives of foster children by partnering with universities to teach life skills, provide academic instruction, and support caregivers. First Star UM includes a four-week summer residential program accepting rising ninth graders and continuing with them over the four years of high school. 
"Exposure to different speakers and experiences is critical for our students," said Kele Stewart, co-director of the Children and Youth Law Clinic and one of the professors who brought First Star to UM. "The students prepared for this visit by researching Congresswoman Shalala's background, talking about policy issues that mattered to them, and thinking about questions to ask. What a great hands-on learning opportunity." 
The Children and Youth Law Clinic is a key partner, along with UM's School of Education and Human Development, in First Star University of Miami Academy – a holistic college-prep program aimed at helping children impacted by the state child welfare system to overcome the obstacles created by their circumstances, and to shape better tomorrows despite their turbulent pasts.
Nearly a fourth of the ones who "age out" of foster care at 18 and are sent out in the world end up homeless. Almost two-thirds of the males and a third of females get incarcerated. Barely 3 percent will earn bachelor's degrees.
The First Star Academy aims to change that. The mission seemed like a natural match with the University of Miami. Founded by Hollywood film producer Peter Samuelson, the on-campus academy model opened at UM in 2017. Samuelson doesn't take credit for the inspiration for First Star, but the self-made, British-born serial philanthropist says the founding principle matched the vision that drew him to the United States in the first place.
Shalala's talk also fit with that vision. She spoke to the rising juniors – students that are participating for the third year as they prepare for a life beyond high school. The former UM president outlined paths to success available to them: enroll in college, join the military or attend a trade school, investigate scholarships and Pell grants. She said she was very ambitious and shrewd when she was growing up and always tried to look at all the options available.
"I am so proud of our juniors," said Maria Pia De Castro, the program director. "They have grown so much since we began three years ago."
Over the summer, the soon-to-be 11th graders are taking classes in SAT/ACT preparation, math and language arts, as well as financial literacy and social-emotional skills. A new cohort of rising 9th and 10th graders started the program this summer taking classes to get them ready for the next grade. Students also do field trips and fun team-building activities.
"Don't just focus on one thing," Shalala told them. "Look at a football running back; he looks for options, he has patience and speed. When he sees the hole, he goes for it."
For information about the program, contact Maria Pia De Castro at m.decastro3@miami.edu
More on Miami Law's Children and Youth Law Clinic 
More on First Star Academy