Dave Grutman, the ubiquitous Miami-based hospitality entrepreneur and restaurant owner known for Liv, Story and Komodo nightclubs, hosted a conversation about "Hospitality, Entrepreneurship, and the Law" in front of 100+ students with an interest in the entertainment law area.
Student Organizations Work Together to Put on Event
The Q & A was moderated by Adjunct Professor Vivek Jayaram who teaches in Miami Law's Entertainment, Arts and Sports Law LL.M. program and is an expert in the areas of business litigation, copyright, trademark, and commercial transactions
The event was hosted by the Entertainment and Sports Law Society - the Intellectual Property Society and Business Law Society also brought Mr. Grutman to campus.
Important to Protect Your Intellectual Property - IP
Grutman brought his singularly unique perspective to the conversation and shared how to succeed in the hospitality industry, as well as the roles lawyers play in that success. He discussed the importance of protecting your IP, using the example of actively shutting down fake LIV's around the globe that have attempted to profit off the fame of the iconic nightclub.
He spoke about how he finds lawyers to help him with his various projects, detailing what he looks for in the lawyers he hires and the partners with whom he joins forces. Grutman also indulged the captivated room with some flashy gems about the importance of connections, sharing how he was key in introducing Drake and Bad Bunny which led to the creation of the hit song "MIA."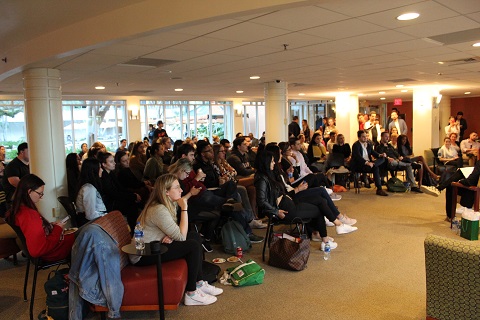 All About Authenticity
At the core of Grutman's Q & A was the theme of maintaining authenticity in the hospitality and entertainment business. Students left with the takeaway that there is great value in the fearless willingness to walk to the beat of their own drum.
When asked about how he stays authentic and ahead of the trend, Grutman simply answered, "that's the sauce, man…" A fitting close to an exceptional event.
More on Entertainment and Sports Law at Miami Law
More on Intellectural Property IP Law at Miami Law