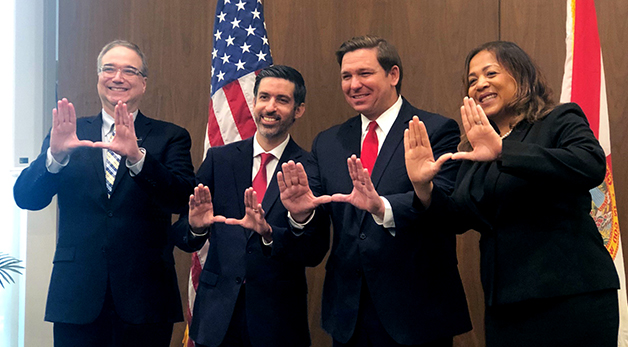 Dean Anthony Varona, Judge Ramiro Areces, Gov. DeSantis, and Ayana Harris
Governor Ron DeSantis announced a spate of judicial appointments at a press conference yesterday at the Kislak Center at the University of Miami.
"Today, I am excited to make seven judicial appointments – three to the 11th Circuit Court of Florida and four to the Miami-Dade County Court," said DeSantis. "It is imperative that judges understand the importance of their work on the bench, which does not include legislating from the bench. I'm confident that each of these appointees understands the proper role of the courts and will faithfully uphold the rule of law."
DeSantis named Miami Law alumnus and Miami-Dade County Court Judge Ramiro Christen Areces, J.D. '08, to sit on the Miami-Dade Circuit bench.
Former Governor Rick Scott named Areces to the Miami-Dade County Court in the domestic violence division in May 2018. Before ascending the bench, Areces was a solo practitioner and previously practiced with Jorden Burt, LLP.
The 36-year-old jurist thanked the governor for the appointment, saying, "I look forward to continuing to serve the community. I am glad that it was [announced] here at UM Law, where I had the opportunity to go to school."
Areces was one of three county judges elevated to the open circuit seats; DeSantis also named fellow 'Cane, Ayana Harris, to the Miami-Dade County Court. The assistant federal public defender for the Southern District has served in her post since 2008, before which she was a Miami-Dade public defender.
Miami-Dade County Judges Christina DiRaimondo and Robert Watson were also named to the circuit bench.
In addition to Harris, Miami attorney Elizabeth Espinosa, ROIG partner Julie Harris Nelson, and Special Counsel to the U.S. Attorney for the Southern District Miesha Darrough were named to the Miami-Dade County Court.
DeSantis credited South Florida as a pool of great legal talent, citing his successful appointments of two Miami judges to the Florida Supreme Court justices, who went on to the federal 11th Circuit Court of Appeals in Atlanta, Georgia. It was the governor's second visit to UM to announce judicial appointments and he hazarded a guess that he may be back to UM in the future to announce a Florida Supreme Court Judge from Miami-Dade County.
Miami Law Dean and M. Minnette Massey Professor of Law Anthony E. Varona, who was on hand to introduce the governor, said, "One of the most important things we do as a university is to produce great thinkers, researchers, public servants, and community leaders. Today, another Miami Law graduate moves up the judicial ladder to honor that commitment to excellence."