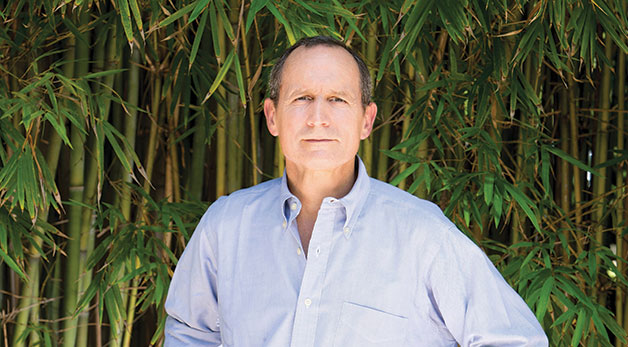 Professor Anthony Alfieri
Author and Professor Anthony Alfieri is a Dean's Distinguished Scholar and founder and director of the Center for Ethics and Public Service. He is also the founder of the Historic Black Church Program and the Environmental Justice Clinic at Miami Law. Alfieri teaches civil procedure, ethics, public interest law and leadership, social enterprise, and professional liability, and lawyer malpractice. He has published more than 80 articles, essays, and editorials on ethics, civil rights, criminal justice, poverty law, professional liability, and the legal profession in leading journals and book anthologies. 
---
For 122 years, Greater St. Paul A.M.E. Church has stood on the Jim Crow west side of Coconut Grove in Miami. On January 29, 2018, at the close of the board of directors' meeting of the St. Paul Community Development Corporation, a nonprofit corporation affiliated with Greater St. Paul, a long-time board member approached me, UM Law Professor Charlton Copeland, and the young, newly appointed pastor, Reverend Nathanial Robinson III, and said, "You have brought the light to this community."
Earlier in the St. Paul meeting, Reverend Robinson pointed out the need to restructure the board and develop a strategic plan to better serve the church, its congregation, and its surrounding predominantly low-income community, and more forcefully address the intractable poverty of the West Grove as a whole. Part of that strategic plan, he noted, included the formation of a housing committee to be staffed by the "built environment" (housing and land use) project of UM Law's Environmental Justice Clinic, a community-based law reform program working in partnership with 60 inner-city black churches in South Florida at the intersection of civil rights, environmental health, and poverty law.  To implement St. Paul's strategic plan, Reverend Robinson charged the housing committee with the mandate to investigate, research, and remedy the widening patterns of tenant mass eviction, homeowner displacement, and resegregation in the West Grove and across the City of Miami.
Later, standing outside the church on Thomas Avenue, I saw no evidence of light, only the familiar mix of dilapidated wood-frame Bahamian shotgun houses that had survived mid-century slum clearance campaigns and derelict post-war duplex rental housing developments, the "concrete monsters" of Miami's Negro Removal era.  Unlike the residents of nearby West Grove streets, many Thomas Avenue homeowners and tenants had survived the subprime lending and foreclosure crisis of the last decade. Now, besieged by "land grab" speculators and absentee landlords, both homeowners and tenants faced the escalating risk of "involuntary displacement—formal and informal evictions, landlord foreclosures, building condemnations."  At the same time, homeowners and tenants confronted the growing risk of economically forced out-migration to low-income, "black housing"  districts in the outer-ring suburbs of southwest Miami-Dade County, state-sanctioned racial enclaves marked by segregated schools, low-wage labor markets, meager transportation infrastructure, public disinvestment, and gun violence and mass incarceration.  
Reverend Robinson's summons to the Environmental Justice Clinic to become further engaged in the distressed neighborhoods of the West Grove and the City of Miami signals what the sociologist Matthew Desmond describes as our collective failure "to fully appreciate how deeply housing is implicated in the creation of poverty."  In explicating this failure, Desmond urges academics and advocates in the fields of civil rights and poverty law to move beyond the conventional ethnographic and sociological study of structural forces (historical discrimination and industrial globalization) and individual deficiencies (the "culture of poverty"). Doing so, he explains, makes visible the often unseen socio-economic dynamics and processes of impoverishment, for example, the process of eviction within the private rental housing markets of cities like San Francisco, Los Angeles, New York, Washington, D.C., and Miami.  
For academics committed to a new law and sociology of displacement and inequality, and for advocates in anti-poverty and civil rights organizations as well as university-housed legal clinics, Reverend Robinson, Desmond, and others sound a call to revisit the inner city as a site of cultural and socio-legal research. Echoed here, that call exhorts us to reimagine the inner city as a context for experiential learning and legal-political advocacy about concentrated poverty, neighborhood disadvantage, residential instability, and severe deprivation. Recent archival research, for example, Richard Rothstein's new book The Color of Law,  answers that call. Rothstein's book arrives at a moment of renewed academic interest in the inner city and resurgent activism in inner cities across the nation. For advocates waging rights-centered law reform campaigns, for academics studying the history of social justice movements, and for activists struggling to mobilize low-income communities of color, the inner city continues to be a focal point of progressive legal-political work in the fields of both civil and criminal justice.
Rothstein and others argue that inner-city and outer-ring suburban segregation in America directly results from deliberate, decades-long federal, state, and local government policies of discriminatory zoning, redlining, subsidies, and taxation. Documenting explicit government policies of de jure segregation, they show that public officials at all levels tolerated, promoted, and enforced discriminatory practices of racial exclusion in residential neighborhoods. In this way, their work challenges claims that the exogenous "same race" activities, customs, and practices of private actors (landlords, real estate agents and developers, mortgage lenders, and homeowners) outside the public reach of government regulation produced the structural conditions of de facto segregation common to inner cities like Baltimore, Chicago, and Dallas, and outer-ring suburbs like Ferguson, Missouri.
In the post-civil rights era, emerging urban research casts an important light on the past, present, and future work of inner-city black churches, university-housed legal clinics, and anti-poverty and civil rights organizations more generally. That light elucidates not only the socio-economic conditions that cause and perpetuate poverty but also the government policies that reinforce residential racial segregation. To enhance that light, we must engage the work of interdisciplinary scholars for a broader, integrated understanding of the current landscape of urban displacement, suburban impoverishment, and resegregation in American metropolitan areas. It is the collective light of UM Law's clinics working hand-in-hand with faith-based and community-based organizations that illuminate alternative legal-political pathways for inner-city advocacy, policy, and research on poverty and race. 
Thanks to Amelia Hope Grant-Alfieri and Reverend Nathaniel Robinson III of Greater St. Paul A.M.E. Church in Coconut Grove (Miami), Florida for their comments and support.