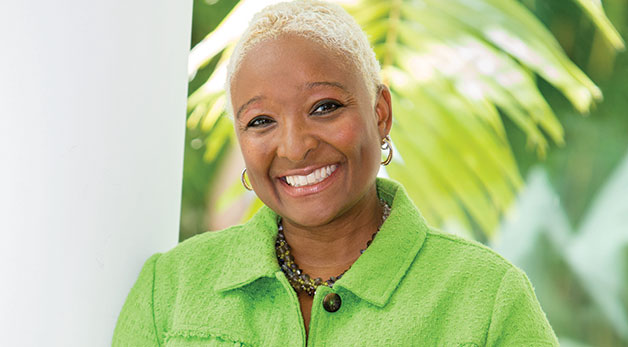 Professor Marcia Narine Weldon
A former litigator and in-house counsel for Ryder System, Professor Marcia Narine Weldon brings real-world experience, along with fundamental legal concepts, to her courses. As professor of legal writing, she has taught classes on negotiating and drafting contracts, and litigation-based documents. She also teaches and conducts research on corporate compliance, governance, and social responsibility.
Narine Weldon strives to convey the principles of effective communication to her students in both writing and skills courses. "You have to get your points across to a client who may be distracted by daily events or multitasking at the same time," she said. "When outlining a case or preparing a brief, you also need to think about telling a story that captures the interest of your reader. When explaining your case to the client, a judge, or a jury, you need to avoid the legalese and tell the story clearly and persuasively," she said.
Perspective, Clarity, and Purpose in Legal Writing
Narine Weldon teaches contract drafting from a litigator's perspective as well as from a deal perspective. "When writing a contract, you always need to think about the choice of words, such as when to use 'shall' rather than 'will' or 'must.' A mistake in the phrasing could cost your client millions of dollars," she said.
Narine Weldon says clarity is fundamental to strong legal writing. "Write your memos and summaries in plain English," she said. "Explain the concept so even a fourth-grader can understand what you're saying without dumbing down your writing or making a CEO feel stupid. That's not always an easy thing to do. But choosing clear words is particularly important in South Florida, where English is not the first language for many residents."
Like senior attorneys and business executives, law students need to know about their audience and consider the purpose of a written memo, brief, or contract before sitting down at the computer. For instance, advising a client about the potential benefits and risks of a contract proposal might require translating the key business points into legal terminology, according to Narine Weldon.
Becoming an Attorney
Narine Weldon was born in New York and grew up in Miami. She took acting lessons for years before graduating from Miami Killian High School. "I got an early start on public speaking and learning how to project my voice," she said. "Those are great skills for litigators to cultivate."
Weldon enrolled at Columbia University in New York, studying political science and psychology, and earned her bachelor's degree cum laude in 1988. As an undergraduate, she wrote a paper on "Civil Rights Law and Social Change" that led her professor, the late Jack Greenberg, to suggest a career in law.
"When I graduated from Columbia, I had no idea what I would do next," she said. "I thought about going to Wall Street, but had a difficult time with math and wasn't particularly interested in business. I wound up taking the LSAT because it was the only test for graduate school that didn't have math questions. Now it's ironic that I focus on business law and encourage students to take accounting and tax courses."
Narine Weldon enrolled at Harvard Law School, earning her J.D., cum laude, in 1992. After graduating, she worked as a law clerk to former Justice Marie Garibaldi of the Supreme Court of New Jersey. She then joined Cleary, Gottlieb, Steen, and Hamilton in New York and began building a practice in commercial litigation, while handling pro bono cases outside of the firm involving abused and neglected children.
"After working hard for three years, my son Hunter was born," she said. "I realized that I wouldn't see him grow up if I kept working those long hours in Manhattan." So, Narine Weldon returned to Miami in 1996 and joined Morgan, Lewis and Bockius as a labor and employment attorney.
From there, it was a natural step for Narine Weldon to became an in-house attorney at Ryder System, where she moved up to become deputy general counsel, chief compliance officer, and chief privacy officer. In those roles, she oversaw the company's global compliance, business ethics, privacy, government relations, environmental compliance, enterprise risk management, corporate responsibility, and labor and employment legal programs.
In May 2011, Narine Weldon testified before the House Financial Services Committee in Congress on the unintended impact of Dodd-Frank Financial Reform on corporate compliance programs. A year later, the U.S. Secretary of Labor appointed her to the Whistleblower Protection Advisory Committee. She also served on the Miami-Dade Commission on Ethics and Public Trust from 2014-2017.
"While at Ryder, I had the benefit of working with an executive coach," Narine Weldon said. "That led me to consider academia as the next step in my career. I enjoyed training Ryder's executives and managers about the law while researching legal issues and legislation that could affect our company. So, I decided to become a professor."
A Teacher of Law
After making her decision, Narine Weldon obtained a teaching fellowship at the University of Missouri at Kansas City, where she taught professional responsibility, employment law, and corporate governance, compliance, and social responsibility. She returned to Miami in 2013 and spent three years on the faculty at St. Thomas University's School of Law, where she taught civil procedure, business associations, legal issues for startups, and business and human rights before joining Miami Law.
"During my years as a corporate lawyer, I felt a strong connection with the University of Miami," she said. As a practitioner, Narine Weldon had joined LawWithoutWalls, a collaborative academic model that explores innovation in legal education and practice, and she has continued to mentor Miami Law students in the program.
Since 2017, Narine Weldon has taught Miami Law courses on transactional drafting, legal writing, and corporate governance, compliance, and social responsibility. "I focus on practical applications of the law," Narine Weldon said. "The most gratifying part of my work is when my former students come back and tell me, 'I use what you taught me every day in my practice.'"
Narine Weldon also brings her global business experience at Ryder, as well as her personal perspectives to Miami Law students. "I've been to 46 countries so far," said Narine Weldon, who says travel and working with clients from other countries has helped her understand the varied cultures and backgrounds of Miami Law's international students. "I like teaching business law to foreign lawyers, and there are LL.M. students in some of my classes. That adds richness to our discussions."
She also believes in the importance of pro bono service, and has been a guardian ad litem for most of her career, adding, "It's a pleasure to be part of a law school that values a personal commitment to public service to our community."