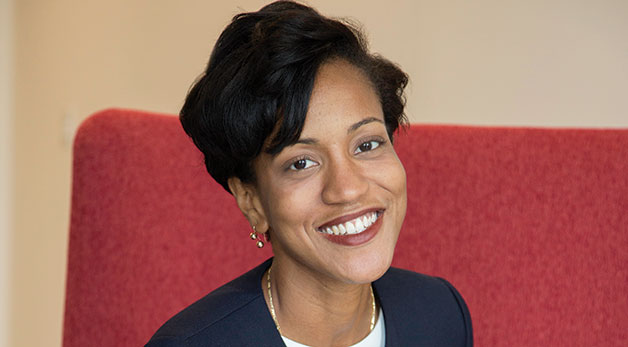 Kellie Portie
Born in Havana, the International Arbitration J.D./LL.M. student learned English in Mozambique, moved back to Cuba, became a lawyer, worked with Dutch and Angolan companies, and, after competing in her home country's first moot court, followed a newfound fascination with arbitration to Miami Law.
It all started when Kellie Portie was a little girl. Her parents gave her a UNICEF poster about children's rights.
"It listed that children had the right to a certain amount of play and things like that," she says. "I had a great childhood, but I would stubbornly assert my rights. That's when they started saying I should be a lawyer."
When Portie was two years old, her father was named surgeon for the president of Mozambique. For the next five years, Africa became her home.
From Early African Childhood in Mozambique to Cuban Countryside
"As a seven-year-old, it was hard to return to Cuba when your first memories of friends, happy moments, trees, and animals you love were in Mozambique," she says. "I will never forget the feeling of watching for the first time my friend's mom holding the baby on her back wrapped in a beautiful African
scarf. Africa made me her daughter, and it took me a while to feel Cuban once I returned."
In Africa, Portie attended the Maputo International School where she learned English but her Spanish suffered. When the family returned to Havana, Portie had some catching up to do.
As a third grader, she had to learn to write and read in Spanish as well as to learn all the lessons from the first and second grades. By fourth grade, she was on track with all her friends.
Portie attended high school in the Cuban countryside, and she credits the experience with fostering her sense of autonomy. "I learned to be independent because I was not living with my parents in the city. I became more social because I had to quickly adjust to living with different types of people."
Law School and Public Defender in Cuba
When she finished, she took two admission exams to the University of Havana Law School.
"My first choice was law school, she says. "Law school just seemed to be the right path," she says. ""I think I found myself there. I found the creative side of me I never knew I had before."
Five years later, she graduated summa cum laude from the University of Havana School of Law.
Portie chose Organizacion Nacional de Bufetes Colectivos because she wanted to be a litigator. As a public defender, she worked at Havana Provincial Court. "I learned to separate my prejudice about a topic because a person needed me as a lawyer and not as a judge." She transferred to Cuban law firm
Bufete E y 23 where she worked in civil, administrative, labor and family law cases at municipal courts.
Joins Team for Cuba's First Arbitration Moot Court Competition
She was offered a chance to participate in Cuba's moot court competition, now named: International Arbitration Moot of La Habana. It was a first for Portie and for her country: applying international law to an international arbitration case in a competition.
"The moot was the first time I learned about international arbitration, and I simply loved it," she says. "I had to learn about this new type of proceeding, read common law, and international law, theory, and cases."
Her team placed second, and she got a job at one of the few international law firms in Cuba, steering her into the Kellie-changing world of international arbitration. And she went on to co-coach two moot court teams from her law school.
Coming to Miami for Her LL.M.
Two years later, Francisco Victoria Andreu, an international arbitration adviser, suggested she apply to the White & Case International Arbitration LL.M. at Miami Law.
"He believed I had potential, and I believed I was up to this new challenge," Portie says. "The White & Case International Arbitration LL.M. program is well-known for its preeminent faculty."
Coming to Miami Law meant more than just changing countries. Cuba is a civil law jurisdiction rather than a common law; the legal systems are substantively different, and so is each system's writing style.
"It was a difficult adjustment. Practicing my writing, re-studying grammar, and reading Ernest Hemingway helped me to overcome my major issues," she says. "Time by time, legal writing became less stressful."
Joining Miami Law's International Moot Court Program
Despite the demands of law school, Portie found time for her other passion, moot court. In 2017, her team placed third and won an Honorable Mention for Best Claimant's Brief in the MOOT Madrid. She also competed in the Foreign Direct Investment Moot at Suffolk University. After she returned from
Madrid, she became the president of the International Moot Court Board at Miami Law in 2017-2018.
"Madrid was a confirmation that I was on the right track," Portie says.
Over the summer, she worked as a law clerk at GST LLP, a boutique firm focused on international commercial and investment arbitrations, representing States, multi-national corporations, and select individuals.
"GST has been an incredible experience to learn of the practice from different perspectives and topics, and a place where I am able to be creative beyond the basic arguments," she says.
Now she's looking forward to graduation and a career. "As long as I'm working on international arbitration, it will be an amazing opportunity," Portie says. "I will always be thankful to those who believed in me."