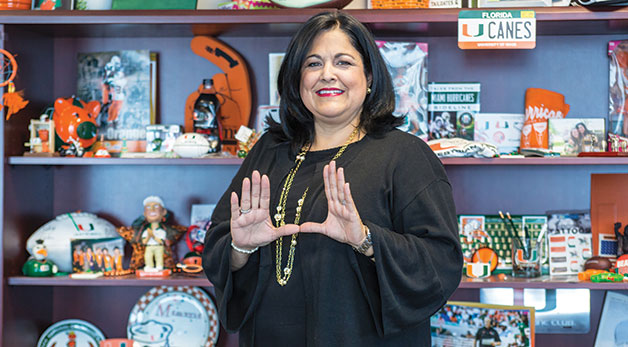 Judge Bertila Ana Soto, J.D. '89
Judge Bertila Ana Soto, J.D. '89, has been a dedicated 'Cane throughout her life. As a girl growing up in Iowa, she would cheer for the Hurricanes' football team, right along with the Miami Dolphins. "After the Dolphins won the Super Bowl in their perfect season, I went out on the streets banging pots and pans," she says. "The neighbors didn't understand it was a Cuban custom for celebrating big events."
In 2013, Soto made history as the first female chief judge of the Eleventh Judicial Circuit of Florida, which serves Miami-Dade County. She was also the first Hispanic and the first Cuban-American in that role.
Today, Soto administers the Eleventh Judicial Circuit of Florida as chief judge, overseeing 123 judges in one of the largest circuits in the country. "Our judges hear cases involving everything from oversized lobsters to the death penalty," she said. "I am very proud of the work they do every day on behalf of our community." 
Passing Litigation Experience onto Miami Law Students
Along with her work in the courts, Soto serves as an adjunct professor in Miami Law's Litigation Skills Program under the direction of Laurence (Lonnie) Rose. "I think it's great for today's students to be taught by instructors who once sat in those same seats," she said. "That helps us relate to our students on a personal level. While the legal problems are often the same from year to year, every time I teach, the students come up with a new twist on the facts. As a result, I learn along with them." 
Soto says the litigation skills course can be beneficial to all Miami Law students. "You can't understand the essence of being a lawyer until you prepare for a trial," she said. "When you prepare a contract, close on a real estate deal or prepare a marital settlement, you try to avoid future disputes. But if you haven't been in court for trial, you might not understand the importance of the wording."
In litigation, every case is different, because the facts are specific to the matter, she said. "At the same time, every judge is different. I might see things one way while another judge might have a different perspective."
Soto encourages her students to dissect each case and discuss the pros and cons of both sides. That's because students often get caught up in their role as advocates and might miss a weakness in their presentation. "Students also need to know about evidence, discovery, motions, and the rules of procedure," she said. "Even though there are fewer jury trials today, there are plenty of bench trials, so they need to be able to strategize and understand the opposition before deciding whether to settle a case or take it to trial." 
From Virginia to Iowa to Miami
Soto was born in Virginia, where her father, Osvaldo Soto was a professor at Longwood College (now, Longwood University). He had been a lawyer in Cuba, before leaving Castro's dictatorship. 
When Soto was several months old, she moved to Ames, Iowa, with her parents and three brothers. She attended dozens of sporting events at Iowa State University, watching the Cyclones compete in football, track, baseball, and wrestling while maintaining a long-distance love for the 'Canes, nurtured by her grandmother Maria Theresa Soto in Miami.
In the mid-1970s, the Sotos moved to Miami, as her father completed a two-year certification program at the University of Florida and passed The Florida Bar. Meanwhile, his daughter graduated from high school in Miami and earned her bachelor's degree at Florida International University before enrolling at Miami Law. 
While a student at Miami Law, Soto joined the Hispanic Bar Association, the Hispanic Law Student Association, the Society of the Bar and Gavel, and the Honor Council, while excelling in the Trial Advocacy Program, now the Litigation Skills Program.
"I always wanted to be a lawyer," Soto said, adding that she admires her father, a Bay of Pigs veteran and founder of the Spanish American League Against Discrimination. "Our family has a great respect for the U.S. legal system," she said. "We don't take democracy and the rule of law for granted." 
State Attorney and Private Practice Post Miami Law
Soto had started clerking at her father's law office at age 14. Initially, she expected to focus on business, real estate, and family law. But after serving as an intern in the State Attorney's Office, she took a different path into litigation. 
She joined the office full-time in 1989 and became an assistant state attorney, trying hundreds of cases as a prosecutor over the next three years. "Litigation requires you to develop a set of invaluable legal skills," she said. "When you are in court, you have to be able to think on your feet, and respond effectively to what's happening in the case."
Soto left the state attorney's office in 1992 after the birth of her daughter Bertila "Bily" Fernandez, with her first husband, Judge Jose L. Fernandez, J.D. '89. She practiced civil law with her father for four years. Meanwhile, her daughter began her journey to the law, earning her J.D. from Miami Law in 2016, and joining GrayRobinson as a litigation associate. 
Soto herself enjoys tailgating at 'Canes football games with her husband Gabriel Rodriguez, a Miami-Dade police officer, and their friends. "We have a great time together, and we are always cheering for our team," she said. 
Serving on the Bench
Soto decided to run for county court judge in 1996 at age 32. She campaigned throughout Miami-Dade County and won a clear victory. "I felt strongly that I could represent our community's very diverse population," she said. "As different as we are in terms of backgrounds, we share a common desire for a fair and effective legal system and access to the courts." 
Governor Jeb Bush elevated Soto to the circuit bench in 2002, and she was reelected without opposition in 2004, 2010 and 2016. Since becoming chief judge in 2013, Soto has seen a general decline in the volume of the court's civil and criminal cases although there has been an upturn since Hurricane Irma last fall. 
"Our judges today are busier than ever because our cases are becoming more complex," she said. "For instance, death penalty and juvenile criminal cases require more hearings prior to the trial and post-judgment," she said. "Our probate cases also involve more discovery and evidentiary hearings."
Another challenge has been the circuit court's transition from paper to a paperless system in civil cases. She said, "We have 34 Miami-Dade municipalities feeding their cases into one system. At the same time, some judges still prefer looking at paper rather than screens. Meanwhile, we still have paper documents in our criminal cases. As a result, we need the county and state to continue to invest in our technology platform."
However, Soto points out that many pro se litigants arguing cases for themselves may not have access to computers or other technology devices. "We want to be sure we make access to the courts available to everyone," she said. "So, we are looking at putting kiosks in our courts' reception areas, as well as offering other tools like self-help pages on our website and offering podcasts on our different divisions."
Asked about her advice for today's Miami Law students, Soto said she sees a legal education as a "great stepping stone" for a professional or business career. "You can go down many paths with a law degree," she added. "But the most important thing is to follow your passion and choose a career that brings you meaning in your life."