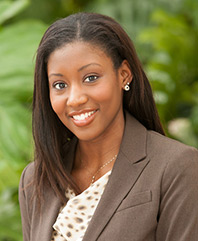 As a native of the Northeast, Shekida Smith had her sights set on practicing law close to the area she calls home. The Miami Law graduate has already secured a position in the derivatives practice group at the storied Skadden, Arps, Slade, Meagher, & Flom LLP in their D.C. office.
During her third-year, she worked in Washington, D.C. under Professor Charlton Copeland's Semester-in-Practice program. Smith worked at the U.S. Department of the Treasury in the General Counsel Office in both the Division of International Affairs, supporting their portfolios of legal issues, and in the Office of Consumer Policy on consumer protection issues.
Smith came to Florida first on a two-year stint with Teach for America, teaching at-risk first-graders at Jesse J. McCrary, Jr. Elementary School in Miami's Little Haiti neighborhood where she created and developed an Excel-based tracking program to follow her students' progress.
At Miami Law, Smith was appointed National Student Director of the American Bar Association National Appellate Advocacy Competition. She was also on the University of Miami Law Review, was an Academic Achievement Dean's Fellow, a member of the Society of Bar and Gavel, as well as dozens of other awards and accolades.
"I have had the pleasure of teaching Shekida in three classes during law school, including her first and last semesters," said Copeland. "Whether we are discussing African American intellectual history and political life, separation of powers, education reform, the regulation of bitcoin, the Treasury Department's engagement with international regulatory bodies, or state violence against black bodies as a public policy issue, I have always left the engagement better informed, more thoughtful, and with the feeling that I am tremendously blessed to have been able to call her a student. I wish that I could take credit for it, but I can't. She is the genuine article, and she will make the University of Miami proud."
She graduated from Princeton University, where she was on the track and field team, in 2009 with a B.A. in French and a certificate in African-American Studies. She also holds a Master of Science degree from UM in educational leadership and social change.
"The University of Miami Law School provided me with an invaluable education, both peer and academic mentoring, and guidance from the moment I was accepted through my 3L spring semester," said Smith. "These priceless resources provided me a foundation upon which I was able to achieve my personal academic goals as well as pursue my ultimate dream of working as a financial institutions regulatory attorney."