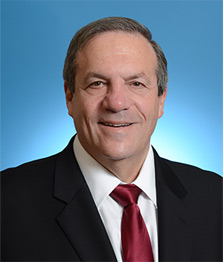 Miami Law alumnus Richard Berkowitz, CEO of Berkowitz Pollack Brant Advisors and Accountants, has been honored by the University of Miami Citizens Board with its Joyce A. Galya Excellence Award. He was recognized for his work chairing the Dolphins Cycling Challenge V, which raised $4.65 million for the Sylvester Comprehensive Cancer Center.
The Joyce A. Galya Excellence award was established in 2009 and is bestowed annually on the Citizens Board member who defines excellence and leadership. Berkowitz has been a member of the Citizens Board for more than 20 years and supports the University's business and law schools.
In addition to serving as CEO, Berkowitz is a founding member of Berkowitz Pollack Brant Advisors and Accountants, a Top 100 firm and one of the largest in Florida. The firm celebrates its 35th anniversary in 2015 and under his leadership has grown to more than 200 firm members in three offices in South Florida.
Berkowitz is also greatly involved with the South Florida community. In addition to serving as chairman of the Dolphins Cycling Challenge, he is chairman of the board of the Community Foundation of Broward, past chairman of Take Stock in Children and a member of the board of directors for the Greater Miami Jewish Federation.
The award is named in honor of Joyce Galya who was a top fund raiser and longtime director of the Citizens Board, where for more than 25 years she led the effort to raise millions of dollars for the University of Miami. She passed away in October of 2008.