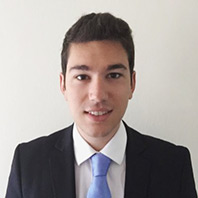 Italian native Davide Schiavetti was named the 2015-2016 Young ICCA Scholarship winner.
Schiavetti obtained both his Bachelor and Master of Science in Law at Universita Bocconi in Milan, Italy. He was offered a merit-based grant to participate in his university's exchange program and spent a semester at the University of Richmond Law School. There, he took an International Arbitration class and realized that it contained everything he was passionate about in law.
Currently, Schiavetti is doing an internship with Rothwell, Figg, Ernst & Manbeck, P.C. in Washington D.C. His scholarship winning essay was titled "Transparency in Investment Arbitration: will the Mauritius Convention cure its schizophrenia?"
"Practitioners, like me, willing to work in the field of International Arbitration, face extremely diverse and complex issues, and are therefore required to master a multi-faceted set of skills," said Schiavetti.
"The high selectivity of the White & Case International Arbitration LL.M. program gives students the chance to be in constant contact with the faculty, which counts some of the leading and most competent personalities in this subset of Law, and gain hands-on experience directly from world-class arbitrators."
Marike Paulsson, Director of the International Arbitration Institute, said that "Davide was a strong candidate despite being the youngest, and he fits the profile of the Young ICCA member. Davide demonstrates a wide interest in rule of law ranging from international arbitration to the role of Westernization with respect to Shari'a and marriage."
The scholarship was established in 2012 and is the only full-tuition scholarship offered to attend Miami Law's one-year White & Case International Arbitration LL.M. Program. Miami Law partnered with the Young International Council for International Arbitration to launch this scholarship as Young ICCA is the world-wide network for young practitioners and students which promotes the international practice of arbitration and encourages them to acquire experience through relevant field research.
Added Schiavetti, "The personalized mentoring of the faculty combined with its outstanding competence provides participants with excellent tools to navigate the intricacies of the field. All of these factors were important to me and certainly distinguished this program as a top choice. Being selected as a winner of the Miami Law/Young ICCA scholarship created an incredible opportunity for me to specialize early on in my career and achieve my goals."