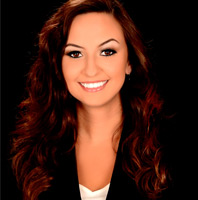 Miami Law recent graduate Morgan Nati grew up in Johnstown, Pennsylvania and received her bachelor's degree in journalism from Virginia Tech in 2009. After graduation, Nati worked for two years before deciding on law school. During those two years, Nati worked as a flight attendant for Spirit Airlines and a news reporter for the Bedford Gazette. Nati also translated her passion for riding horses into a number of equine-related jobs, including working as a horse wrangler on ranches in Wyoming and Hawaii.
Nati, who graduated cum laude in 2014 and was admitted to the Florida Bar in September, reflects on her Miami Law experience as a memorable one, having served as President of the Student Animal Legal Defense Fund.
"My work with that student group helped me to realize that my dream of using my legal education to help animals can actually come true," said Nati. "In the past skeptics and critics easily intimidated me, but through my work with SALDF I learned how to advocate for what I believe in with empathy, focus, and determination, no matter the circumstances. This lesson has translated into all aspects of my life."
Nati also found her work for the Miami Law Children and Youth Law Clinic memorable, having worked with a number of Miami Law faculty members and a variety of clients. "My professor, Kele Stewart, is a wonderful attorney and an incredible person. She built my confidence and taught me how to fiercely advocate for my clients while remaining my authentic self. Of course, working in any legal clinic allows law students to gain perspective and think about the overall picture."
Nati currently serves as a contract attorney in the office of the general counsel at Memorial Healthcare System, which is the third-largest public hospital system in the nation. "Our legal department is top-notch. Most recently, we were recognized by theDaily Business Review as 'In-House Legal Department of the Year' in the technology category. I am so grateful to be able to work for this organization. I began as an intern here in the summer of 2013 and never left."
Outside of Nati's current position with the hospital system, she is excited to begin her pro bono work. Nati's love for animals brought her to the Florida Bar Animal Law Committee, where she is looking forward to gaining more experience and knowledge in the fields of animal law and equine law.
"As I begin my legal career, I try to keep in mind the well-known phrase, 'A small group of thoughtful, committed citizens can change the world. Indeed, it's the only thing that ever has.' I am very grateful to Miami Law for giving me many invaluable tools to help me create that change."