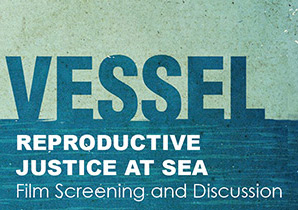 Miami Law's student organization, Law Students for Reproductive Justice, chapter in collaboration with the Women's Emergency Network, recently hosted a film screening of Vessel. The documentary, released just last year, tells the story of a female physician who provided abortions on a ship in offshore waters.
In the documentary, Rebecca Gomperts, an experienced physician and activist, is forced to provide reproductive care on a ship because of the strict anti-abortion laws that are currently in existence in many countries throughout the world. After facing governmental, religious, and military blockades while trying to take women onto the ship, she was able to train women to give themselves safe abortions using World Health Organization-sanctioned protocols with prescription pills. Women on Waves, the group that Gomperts belongs to, continues to help women access safe abortions through internet information, grassroots efforts on the ground, and by maintaining telephone hotlines for women seeking much-needed health advice.
Although the film described the stories of women in countries such as Ireland, Spain, Portugal, Afghanistan, and Qatar, the fight for reproductive rights continues to this day in the United States. Activists in the film spoke of getting telephone calls almost daily from women in the United States who did not know how to access safe and affordable abortions. Dozens of states have introduced legislation over the past few years to place more restrictions on abortion, including shutting down clinics and making it harder for physicians to legally practice reproductive healthcare.
The Women's Emergency Network (WEN) generously provided the film for the law students and attended the screening. WEN subsidizes abortion care for South Florida low-income women and girls who cannot afford a safe, legal procedure without financial assistance.
Law Students for Reproductive Justice looks forward to continuing the conversation this coming school year with more events, panels, discussions, and rallies on the importance of reproductive justice and a woman's right to choose. For more information about how to get involved, email Stephanie Rosendorf at lsrj.um@gmail.com.