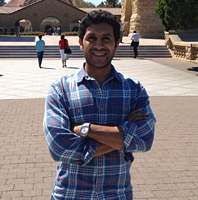 Even though Victor Hanna just graduated a few months ago, he is already off to a very promising start to what can only be an exceptionally successful career.
Professor Felix Mormann spotted the bright star in his Energy Law and Environmental Law & Policy class, and then came to advise the Burke, Virginia native on his student note (a student-authored piece of academic writing which discusses and analyzes an original legal issue or problem) on behavioral economics and energy efficiency, forthcoming in the University of Miami Law Review. Mormann's advice and mentorship would not end there.
"Over the summer, I was able to convince my collaborators at Stanford to hire Victor to work on a comparative study that I helped bring to Stanford, exploring renewable energy policy in the U.S. and Germany," said Mormann who is also a Faculty Fellow at Stanford's Steyer-Taylor Center for Energy Policy and Finance. "The work includes in-depth analytical research, co-hosting workshops with expert stakeholders in California and Germany, and presentation of results to federal policymakers in Washington, D.C., among others."
Hanna came to Miami Law with a vague notion of pursuing an international track – be it in business or law. His plan was to transfer after his 1L year but Miami Law's faculty and the international arbitration focus convinced him to stay. He would compete in the Investment Arbitration Moot Court in Frankfurt, Germany his 2L year.
Connecting with Mormann would help define Hanna's future. "Energy is something that surrounds all of us every minute of every day. It's something that hardly ever crosses our minds, and it is about as interdisciplinary of a field as I've ever studied. When I flip on a light switch now, my mind jumps to the economic, social, scientific, and policy-driven factors that explain where the electricity originates, why it costs what it costs, what it's made from, and why I'm deciding to consume it at that particular moment," Hanna said.
"Taking classes with Professor Mormann and having his guidance on my student note made me really aware of the sum and substance of how we understand and analyze those issues."
"At one end, he's about as much of an expert on the field as you can find. Take a look at the work he's done and the places he's asked to speak on a regular basis, and that will be readily apparent," said Hanna. "What sets him apart is that when you ask him for help on a topic covered in class, guidance on an idea for a publication, or career advice, he sees all angles and perspectives, and puts you in the best possible position to understand those perspectives and make an informed decision for yourself. As if that weren't enough, he always makes himself available for his students and genuinely has their best interests in mind at all times. Miami Law's faculty is its best asset, in my opinion, and Professor Mormann is a clear example of that." Hanna, an Ethel & Walter Beckham Scholarship and Dean's Merit Scholarship recipient, graduated in May 2014magna cum laude. However, his was not straight a line as it would seem. "I went from working in commercial real estate in Los Angeles, to working at a vineyard in Virginia, and turned down an offer to lead tours of Barcelona's nightlife for a local hostel somewhere in between."
His life, post-Miami Law hasn't lost its frenetic blush either: "It's been a trip landing here, but actually getting to my first day of work at Stanford was the hardest part. I moved from Virginia to the Bay Area on a Sunday, took the California bar exam from Tuesday to Thursday, and by Friday morning, I was sitting in the Stanford Law library getting started on my research—without a place to live. Even still, it's pretty hard to complain about much today."
Victor is scheduled to participate in a renewable energy workshop at the University of Cologne's Institute of Energy Economics in Germany this week.
Mormann is understandably proud of his impact on Hanna's choices. "I understand it's not every day that our students manage to land jobs prior to passing the bar, let alone for work on a cutting-edge topic of global importance at an institution as prestigious as Stanford University," Mormann said. "It is a testament to our students' talent and ambition, the nationwide respect for Miami Law's education, and the school's commitment to high-profile topics such as climate change and clean energy."