Alicio A. Piña, J.D.'90, and his wife, Nirma have established an endowed scholarship to recognize and honor the public service of former Chief Judge of the United States District Court for the Southern District of Florida Federico A. Moreno, J.D.'78.
The first of the annual Honorable Federico A. Moreno Endowed Scholarships has been awarded this Fall by Miami Law Dean Patricia D. White. This year's recipients are 1L and Miami Scholar Jessica Brautigam and 3L Anaili Medina.
"I got to know Judge Moreno while Nirma was serving as his judicial assistant at the time. He was very instrumental in encouraging me to apply to and attend the University of Miami's School of Law, in spite of having recently emigrated from Cuba," said Alicio Piña. "Judge Moreno always inspired hard work and dedication through his example. We established the scholarship in gratitude to Judge Moreno and to the law school for the invaluable education and overall rewarding experience I received there."
Judge Moreno served as Chief Judge from 2007 to 2014 and continues to sit on the Federal bench. Prior to his appointment by President George H.W. Bush in 1990, he sat on the 11th Judicial Circuit Court from 1987 until 1990, and was a Dade County Court Judge from 1986 until 1987. Judge Moreno was in private practice starting in 1978 until 1986 in the firm of Thornton, Rothman and Moreno, and in between served as Assistant Federal Public Defender in the Office of the U.S. Public Defender from 1979 until 1981. Judge Moreno is a member of Miami Law's Visiting Committee.
The Venezuelan-born Moreno met his wife, Maria Cristina Morales, while at Miami Law. She is now a prominent Miami attorney.
"I received a wonderful legal education at UM's Law School where I was lucky to serve as the school's Student Bar Association's President, but most importantly where I met my wife Cristina, a Double 'Cane," said Judge Moreno. "Alicio and Nirma Piña are long time friends who are an example that you can do good while doing well too. I am honored to be associated with them and am grateful for their friendship as well as their generosity and love for the University of Miami's School of Law."
Alicio Piña is a partner at Florida Value Partners, LLC, a company formed in 2008 to purchase distressed real estate throughout the U.S. Formerly, he was the Chief Deputy of Miami-Dade County Courts, overseeing the duties of the clerks throughout all divisions of the courts system. In 1993, he left to establish his own real estate company, investing in properties in foreclosure and bankruptcy. He has the distinction of being the first Marielito to graduate from any U.S. law school; ten years to the date he fled Havana. ("Marielito" is the name given to refugees from Cuba who came to the U.S. in 1980 as part of a mass migration that sailed from Mariel, Cuba.)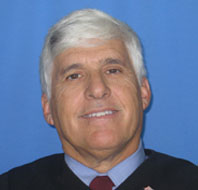 It is fitting that one of the inaugural recipients is a native of Havana. 3L Anaili Medina, 26, came to the United States at the age of five. "I am honored to be an inaugural recipient of the Moreno scholarship," Medina said. "As a mother, wife and student, this scholarship means that I will be able to realize my childhood dream of becoming an attorney. It will also make the sacrifices my parents' made to bring me to this great country worthwhile."
"Alicio and Nirma Piña have been both generous and thoughtful in honoring Judge Moreno with the creation of the endowed scholarship," said Dean White. "I hope others will follow their example and add to the endowment so that Judge Moreno's legacy will live far into the future at Miami Law."