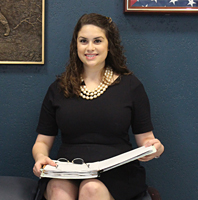 Alissa Gold, JD'13, worked in Miami Law's Health Rights Clinic as an Equal Justice Works AmeriCorps Legal Fellow. Working exclusively with veterans, she won two disability claims with Social Security for two of her clients in her last two weeks on the job.
One client, Lori Davis, was the victim of PTSD stemming from a rape while serving in the military. When Davis's final award is tallied, she will likely receive $20,000 in back disability benefits and just under $2,000 a month going forward from the Social Security Administration.
"I was about to be homeless," said the single mother of two and Navy veteran. "I had been missing work, then had to stop. I was given short-term disability but the employer was not very understanding and they even stopped that. I kept getting denied food stamps.
"And then I met Alissa. Everyone respects the fact that you have an attorney. I was intimidated by the system and, in my situation, I would never be able to afford an attorney, even on a contingency basis. Alissa stepped in and everything turned around. Even when I would hit a wall, she was always reassuring me that we could handle it.
"Now I can pay bills, feed my family, and cover the expenses from my medical conditions. She changed everything. Even my outlook is 'I can do it!' Alissa was so encouraging; I am profoundly grateful to her and the program."
Another client with advanced diabetes, Elias Santos, was awarded $20,000 in back benefits and will receive $1,555 a month going forward.
"Alissa handled the worrying for me on my case," said the 59-year-old Puerto Rican veteran. "I was desperate and depressed; I didn't know what to do. I wasn't working and I had expenses. I was in a bad situation where I could not go on when my case was taken.
"My disabilities have not changed but financially I have assistance. I am grateful for everything that Alissa has done for me," he said.
Gold served as Editor-in-Chief to the Psychology, Public Policy, and Law Journal at Miami Law, chaired the Communications and Outreach Committee of the Public Interest Leadership Board, and was a Miami Scholar. She served as a law clerk with the United States Coast Guard where she drafted a lawful general order prohibiting the use or possession of "bath salts."
"Working with my veteran clients this past year was an incredibly rewarding experience. I learned so much about the trials and triumphs of military service, and the difficulties of living with chronic conditions in a world that is not built to accommodate them," said Gold. "It's an amazing feeling to get a call from a client who just got their first Social Security check and, for the first time in a long time, doesn't have to choose between continuing to work a job they are no longer physically able to do and feeding their family. No person who served our country should ever have to make that choice."
Gold interned at the Third District Court of Appeals and with the Judge Advocate General's Corps, U.S. Army, in Washington, D.C., and at the American Civil Liberties Union. In addition, she was a staff writer for the Jerusalem Post, conducting interviews on everything from business to arts in Hebrew.
"I know that my years at Miami Law, both as a student and as an Equal Justice Works AmeriCorps Legal Fellow, have well prepared me to continue to pursue my interests in public health and administrative law as I start my new position as Regulatory Counsel at the Food and Drug Administration," said Gold.
The Health Rights Clinic at the University of Miami School of Law provides pro bono assistance to underserved populations. The clinic is staffed with two supervising attorneys and two Fellows along with a number of second- and third-year law students. Among other things, they handle a huge number of claims on behalf of veterans.
"We, and the veterans she helped, have been so fortunate to have Alissa working on their disability cases," said JoNel Newman, Associate Professor of Clinical Legal Education and director of Miami Law's Health Rights Clinic. "The system is impenetrable for individuals who seek to get benefits that they are entitled to without legal assistance. In the Social Security system alone, more than 80 of initial claims are denied, while the majority that go to a hearing before a judge, with counsel, are successful. Sadly, this often impacts the poorest veterans the most harshly."
Says Gold, "I was honored and humbled to be able to help these incredibly brave veterans get the benefits that they so deserve."