Sharon Booth, Victoria Mendez, Nick Kallergis, Michael Grieco, Gary Held, Brendan Corrigan, and Marni Lennon
The HOPE Public Interest Resource Center recently hosted four local government officials as part of a panel moderated by HOPE Fellow and third year Brendan Corrigan. The panel, which was made up entirely of Miami Law alumni, gave students insight into the often-overlooked employment arena of local government.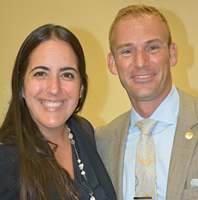 "What I have found is that while most law students are aware of the role that federal policymakers in Congress and in administrative agencies play in our system of government, many are unfamiliar with the substantial manner in which policy is crafted at a local level," Corrigan said. "The panel discussion was designed to enlighten law students to that process by giving them an idea of what it means to practice law in the context of local government."
The four panel members each spoke about how they got involved in local government, as well as their current roles in their respective cities.
"When I sat in your seats, I never imagined all of the legal issues facing local governments," said Miami City Attorney Victoria Mendez, JD '99, to the current students. "I took for granted everything that happened on a daily basis."
Panel member Nick Kallergis, JD '13, Miami Beach Assistant City Attorney, shared Mendez' awareness of their change in perspective after law school.
"I was pleased to participate in the panel because I remembered having little to no exposure, as a law student, to public sector work on a local level," Kallergis said. "I hope students will be inspired to explore opportunities in either local government or in law offices that work closely with local governments."
The four panelists have each played a major role in shaping the direction that their communities are taking. Miami Beach Commissioner Michael Grieco, JD '99, told students about one of the projects his city is facing right now – sea level rise.
"Miami Beach is ground zero for sea level rise," Grieco said. Because of the lack of incoming resources from federal and state governments, Grieco said Miami Beach is "self-funding" their storm mitigation projects.
Like many local governments, Miami Beach must find the most effective ways to fundraise and lobby for their needs.
"Municipalities are uniquely situated political subdivisions, which often allows them to be more forward-thinking and operate more efficiently than their state and federal counterparts," Corrigan said. "Thus, practitioners involved in local government policy have the space to solve complex issues, effectuate change, and make real impacts on the community."
That change doesn't necessarily have to come entirely from the city itself, however. Often, cities can work with private entities to solve mutual problems.
"In local government, you constantly have to think of private-public partnerships to manage the limited resources and competing priorities," Mendez said. "In the city of Miami, it's often a decision between capital improvements and getting more police officers on the street, for example."
Miami Beach First Assistant City Attorney Gary Held, JD '82, highlighted another of Miami Beach's major projects – historic preservation. "The art deco and historical districts are tremendous cultural resources for Miami Beach," Held said. "Preserving them allows that region to be a very special and unique part of our city. It takes attorneys to shepherd people through the process of adhering to the many rules attached to historic preservation."
Students who are interested in pursuing a legal career in local government are encouraged to intern in the community. "You, the UM interns, are what helps us to do what we need for the city," Mendez said.
In local government, the fields of work are more varied than in many other sectors. All four panelists were able to speak to the vast amount of experience they got in the local government arena that would likely not have been possible somewhere else.
"How much you get to do has much to do with office structure, yes, but also what interests and skills you bring to the table," Held said.
The panel primarily served as an opportunity for students to learn about a possible career direction that they may not have considered before.
"Most students are not exposed to this career path during law school, unless they actively seek it out," said Catherine Kaiman, Practitioner- in-Residence for the Center for Ethics and Public Service. "Hopefully listening to the great panelists share their advice and own experiences will open students' minds to a different form of public interest law."