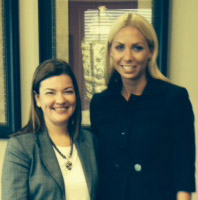 Originally from Jacksonville, Florida, Whitney Kouvaris attended Amherst College in Amherst, Massachusetts before attending Miami Law. Graduating magna cum laude in May of 2014 and admitted to the Florida Bar in September 2014, Kouvaris is now clerking for Judge Barbara Lagoa at the Third District Court of Appeal in Miami, Florida.
"I had wanted to clerk for Judge Lagoa ever since the summer after my 1L year," said Kouvaris. "I received externship credit interning for Judge Lagoa that summer, and continued to intern in her chambers until I graduated this past May. I thoroughly enjoyed my time as an intern in Judge Lagoa's chambers, and I am even happier now to be working as one of the Judge's full-time law clerks."
Kouvaris's ambition and work ethic are reflected in her time at Miami Law, having participated in a number of externships and opportunities that led to her clerkship today.
"While I was at Miami Law, I externed during the spring of my 2L year at Americans for Immigrant Justice (AIJ), a not-for-profit legal assistance organization that seeks to protect and promote the basic human rights of immigrants," said Kouvaris. "During the summer of 2013 (between my 2L and 3L years), I worked as a Law Clerk at Chepenik Trushin LLP, a Miami law firm specializing in estate planning and commercial litigation."
In addition to her externship opportunities, Kouvaris served as the Elements Dean's Fellow to Professor Irwin Stotzky in the fall of 2012, as a Criminal Procedure Dean's Fellow to Professor Mary Anne Franks in the spring of 2013 and 2014, and as an Upper Level Family Law Dean's Fellow to Professor Zanita Fenton. Kouvaris was also involved in the STREET Law program during her 2L year where she taught a weekly law class at Coral Gables Senior High.
"My experience at Miami Law was truly incredible," said Kouvaris. "I was very fortunate to have the opportunity to participate in so many different activities and meet so many interesting people while I was a law student. Miami Law provided me with a variety of experiences that challenged me as a student and future lawyer in so many positive ways. I am very grateful for the support I received (and continue to receive) from both the faculty and administration, and I know I would not be where I am today if it weren't for my time at Miami Law."