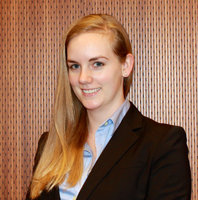 Natalie Harrison, J.D.'14, is a staff attorney for Florida Supreme Court Justice R. Fred Lewis, J.D.'72. For the next two years, she will spend her days drafting opinions and memoranda and attending oral arguments before the Florida Supreme Court. Before working in the halls of Tallahassee, Harrison's curriculum vitae revealed a Renaissance playbook of academic achievements straddling the legal and the environmental with a side order of the Fall of the Roman Empire.
Harrison graduated summa cum laude from Miami Law at the same time she received a joint degree with a Master in Professional Science in marine affairs and policy from the University of Miami Rosenstiel School of Marine and Atmospheric Science with a 4.0 GPA.
At Miami Law, she was Executive Editor of the University of Miami Law Review, and received the high honor of the Order of the Coif. When an undergraduate at Duke University, she graduated cum laude with a Bachelor of Science in Biology and Classical Civilizations (thanks to a remarkable high school Latin teacher), and was awarded the prestigious Maggie Schneider Award in Marine Biology.
However, it's not at all surprising to learn how natural it is to connect the dots of Harrison's life: she grew up on a cattle farm in Fort Pierce, Florida where the beach and the Indian River lagoon surrounded her. She tagged and collected data on sea turtles in high school, sparking an interest in conservation and science. In college, she was on track to become a marine biologist until a Duke professor schooled her on the importance the law plays in marine conservation and environmental protection.
In between Homer, the seals, and Justice Lewis, are stints at the Harbor Branch Oceanographic Institute, National Parks Conservation Association, and the Economic and Environmental Crimes Unit of the United States Attorney's Office. She has also interned in Mossel Bay, South Africa with Oceans Research studying predator-prey interactions between great white sharks and Cape fur seals.
Harrison credits both a law professor and the Career Development Office with her success in securing the prestigious judicial clerkship. "Professor Sergio Campos was a great resource in helping me match up a clerkship that suited my interests and my career goals," said Harrison. "Amy Perez from the CDO really guided me through the clerkship process, and helped me every step of the way. When I scheduled the interview, she put me in touch with former clerks to help prepare me for the interview."
Despite her exciting past, Harrison is happy in the halls of Florida's highest court, and by serendipity. "I'm really enjoying the work here," Harrison said. "It's a true privilege to work for Justice Lewis and for the Florida Supreme Court, especially because I'm the first attorney in my family since my great-grandfather - Judge Alto Adams - served on the Florida Supreme Court from 1940 to 1951 and again from 1967 to 1968."