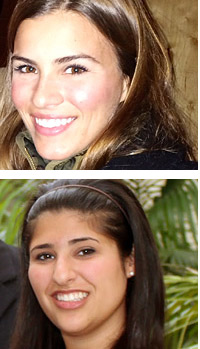 Three Miami Law students have been selected for The Hispanic National Bar Association (HNBA)/Microsoft IP Law Institute in Washington, D.C. Rising 2L Dalisi Otero and rising 3Ls Lauren Gonzalez and Trisha Ojea were selected to participate in this highly competitive immersion program in early June.
"I feel incredibly honored to have been chosen to participate in this prestigious program," said Gonzalez. "I hope that through the HNBA/Microsoft Summer IP Law Institute, and through other similar programs, more Latino students are exposed to intellectual property law and have the opportunity to excel in this dynamic area of law."
Gonzalez is Editor-in-Chief of The University of Miami Race and Social Justice Law Review, a Dean's Fellow, Vice President of the IP Law Society and a Research Assistant for Professor Andres Sawicki.
The HNBA/Microsoft IP Law Institute is designed to provide opportunities for Latino students interested in intellectual property law, including patents, copyrights, trade secrets and trademarks. Participants will be provided substantive instruction, the opportunity to observe first-hand U.S. IP institutions at work, and the chance to meet leading members of the IP legal community who will serve as mentors and potentially provide pathways for future job opportunities.
"I am honored to have been selected to represent UM Law at the 2014 HNBA/Microsoft IP Law Institute this June," said Otero. Otero is a member of the Hispanic Law Students Association, Miami Law Women and is a Research Assistant to Professor Sergio Campos. "This is an invaluable, unique, and exciting opportunity to learn and meet lawyers from around the country in one of my favorite places--Washington, D.C. I am definitely looking forward to it!"
Horacio Gutiérrez, J.D.'98, corporate vice president and deputy general counsel in charge of the Microsoft Corporation's worldwide intellectual property group started the week-long IP Law immersion program. The Hispanic National Bar Association (HNBA) and Microsoft Corporation with HNBA Corporate Counsel Conference in Atlanta, Georgia partnered to increase the number of Latino lawyers in U.S. intellectual property law. Microsoft has pledged $200,000 over three years to help fund the HNBA/Microsoft IP Law Institute.
Ojea is a legal intern for the University of Miami's Office of Technology Transfer and a member of the Hispanic Law Student Association. "It is an honor to have been selected," said Ojea. "This is a wonderful program that is working to increase Hispanic representation in the Intellectual Property Field, and I am proud to be a part of it."