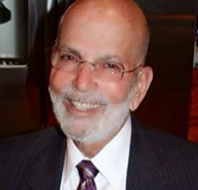 Miami Law alumnus Stuart Markus began practicing law in Miami in 1958 and worked as a trial attorney for 55 years. He was well-known for representing the "little guy," often without accepting a fee. He was "the last small-town lawyer in this big town," said Miami-Dade Circuit Judge Milton Hirsch, a longtime friend. After his death in late 2013 at age 81, his family established the Markus Award at Miami Law, which recognizes a student each year for outstanding work in one of the Law School's in-house clinics.
"My dad practiced law in Miami for over 50 years," said son David Markus, a well-known South Florida defense attorney. "Throughout his career, he fought hard for his clients in every area of the law. He never turned away a person in need, and helped countless people with practical, hands-on advice and representation that went far above and beyond the norm."
"We established the Markus Award to honor a student who shares that caring spirit, and who has made a meaningful difference in someone's life – which is something my dad did every day," said David Markus.
The inaugural recipient of the Markus Award is rising 3L Bethany Bandstra for her work with the Health Rights Clinic.
"She has, throughout her tenure in the Clinic this year, handled the most difficult cases and clients with great alacrity," said Professor Ricardo Bascuas. "She completed two extremely well researched and well written appellate briefs while continuing to represent all her individual clients whose cases are in a variety of procedural postures. She has also taken a leadership role in one of the Clinic's three policy advocacy projects, working on an access to justice initiative. Bethany is so accomplished that she also served as a mentor and expert to many of her classmates."
The Health Rights Clinic is a medical legal partnership operated in partnership with UM's Miller School of Medicine. Students who work in the Clinic spend the academic year representing low income patients of the Veteran's Administration, South Florida Aids Network, Jackson Hospital and other medical partners.