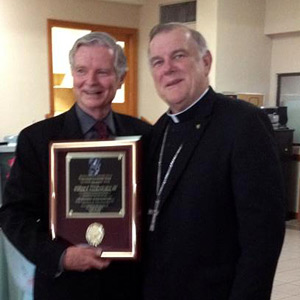 William VanderWyden, Assistant Dean for Professional Development, was recently honored by the Catholic Lawyers Guild of Miami with its "Lex Christi, Lex Amoris Award." Previous recipients have included Judges Beatrice Butchko, Aldalberto Jordan, Vance Salter, and Federico Moreno. The award recognizes Catholics in the legal profession who pursue justice in their daily lives.
Dean VanderWyden, a graduate of Miami Law, has been working at the Law School since 1987. He coordinates Partnership for Professionalism, the much acclaimed program that brings judges, attorneys, and law students together in informal dinner settings twice a year to promote civility, ethics and professionalism among members of the legal community.
He is an expert on bar applications and disclosure matters, bar passage, and graduation requirements. He remains in contact with many former students, many of whom he helped over the past 23 years in the Office of the Dean of Students.
In addition to his work at Miami Law, he serves as a church musician and is active in many community activities.
"There is simply no one who personifies what the award represents better than you do," said Daniela Rosette, President of the Catholic Lawyers Guild of Miami in an email to Dean VanderWyden. "The type of person that you are and the impact that you have on anyone who is fortunate enough to meet you makes you the most deserving person to receive the award."