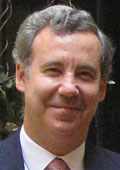 Visiting Professor José M. de Areilza, Professor of Law and Jean Monnet Chair at ESADE, Ramón Llul University in Spain, will be teaching the short course "Power and Influence," starting Monday, March 31. Professor de Areilza has published extensively in the fields of European Union constitutional law and Spanish foreign policy. He served between 1996 and 2000 as advisor to the Spanish Prime Minister on European and North American affairs. Professor Areilza writes a weekly column in the newspaper ABC and is a member of its Board of Directors.
Recently, he answered a few questions posed to him by Emily Horowitz, Post-Graduate Student Services Fellow at Miami Law.
1. Why did you choose to teach at UM Law?
"I love Miami and I hold UM Law in very high regard."
2. What are you most looking forward about teaching at UM Law? 
"I'm looking forward to the interaction with the students, offering them new ways of thinking about their careers and the organizations in which they will work."
3. What can a UM law student hope to get out of your class?
"A better understanding of power and influence around him or her, more analytical tools and useful examples to decide how to build power and how to use."
4. What is your most memorable teaching experience?
"Singapore, some years ago, my plane from Madrid was late and I had to teach six hours straight from the airport."
5. Where is the coolest place you've gotten to travel?
Either as a result of teaching or personal travel. "The Nile, sailing a small boat at sunset, near Luxor, Egypt."
6. Please give us 1 fun fact about yourself.
"I write a wine blog on Spanish wine."
Read more about Miami Law's innovative short courses.