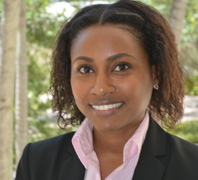 Ever since Tiffany Hendricks was a little girl, her family told her she would make a great lawyer. As she got older, Hendricks realized her family was right; some of her best strengths were talking to people, problem solving, and critical thinking.
After graduating from the University of Florida where she studied Political Science in 2010, Hendricks joined Teach for America Miami-Dade. It was an experience that became the key to opening the door to her legal future. "This opportunity allowed me to meet very influential people in the Miami community, specifically lawyers and advocates," Hendricks said. "I knew more than ever that I wanted to further my education in the law."
Today, as a rising 2L at Miami Law, Hendricks is seeing the law in practice as an intern at the U.S. Department of Education Office for Civil Rights in Atlanta, Georgia. As a HOPE Public Interest Fellow this summer, she is assisting a team of attorneys and investigators in reviewing discrimination complaints.
"After studying Constitutional law with Professor Corbin this spring, I learned about equal protection under Title VI; I wanted to see how discrimination is actually found based on real life facts and what power the federal government actually has over education," Hendricks said.
Hendricks is looking forward to going on site visits and interviewing witnesses. "I am very excited to experience the role of an attorney and not a law student," she said. And she's learning that investigating discrimination complaints takes a lot of research and negotiating. "I have learned that actually finding and supporting claims of discrimination is very difficult during the fact-finding process because discrimination often occurs when people least likely realize they are treating one group of people differently than another," Hendricks said.
With two more years to go in law school, Hendricks is currently interested in practicing corporate regulatory compliance. "My goal is to diversify myself while in law school in order to compete in today's job market," she said. This fall she will be interning with the U.S. Attorney's Office in Miami where she'll have the opportunity to learn from some of the nation's best litigators.