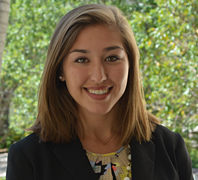 Born in Bolivia to a Turkish mother and a Bolivian father, Nejla Calvo came to the United States at a young age. After growing up in Rhode Island, Calvo attended Middlebury College, where she was chosen by members of the faculty as a Student Advisory Board Member of the Center for Comparative Studies of Race and Ethnicity. Along with her work promoting diversity and racial and social justice at Middlebury College, Calvo conducted an independent research study as a Metcalf Fellow in Bolivia, where her work in community justice projects truly began to take root.
It was this dedication to public service that drew Calvo to Miami Law, and as a highly talented and qualified applicant, she was named a Miami Public Interest Scholar.
"Miami Law embraces a pro bono ethic by providing access to public interest opportunities and connecting students to a vast network of legal professionals who are dedicated to public service," said Calvo. "With guidance and support from the H.O.P.E. Public Interest Resource Center and the Center for Ethics and Public Service, I have been given the tools to forge my own career path as a future public interest lawyer in Miami."
During her first summer at Miami Law she worked at the Florida Justice Institute on a variety of matters, from writing demand letters to prisons for medical care for inmates to drafting complaints seeking compliance with the Americans with Disabilities Act for deaf inmates to seeking to intervene on behalf of inmates who were not being allowed to practice their religious beliefs. One case, however, stood out to Calvo: The case of an inmate who was denied access to a surgeon to correct an inguinal hernia for five years—until she and the FJI filed a demand letter with the prison.
"At FJI, I gained hands-on experience in civil rights litigation," said Calvo. "As an intern, I was assigned the same level of responsibility as one of FJI's attorneys. I drafted motions, pleadings, and legal memoranda on a variety of cases dealing with prisoner's rights, housing, and disability discrimination."
Founded in 1978, FJI is a private, not-for-profit public interest legal organization dedicated to improving the administration of justice for all Floridians. The organization primarily works on cases dealing with prisoner's rights, housing discrimination, disability discrimination, and voting rights issues. These issues were right up Calvo's alley.
"At FJI, I worked alongside experienced attorneys who shared a passion for civil rights and social justice," said Calvo. "Not only did they offer me guidance in my legal research and writing, but they also offered me invaluable advice regarding public interest legal career paths." For Calvo, this passion for social justice is nothing new.
In true Miami Scholar fashion, Calvo's dedication to the greater good has only increased in her time at Miami Law. During the 2014 summer she is interning at the Community Justice Project of Florida Legal Services, Inc. She is now a legal intern with Professor Anthony Alfieri's Historic Black Church Program and a research assistant for Professor Jennifer Hill. Calvo is also a member of the Charles C. Papy Moot Court Board, theRace & Social Justice Law Review, president of the Society of Bar & Gavel and director of the Equity Playhouse.
Calvo is quick to point out that one of her favorite aspects of Miami Law is her relationship with her colleagues. "My law school experience has been enriched by my colleagues. Fellow Miami Law students are often generous with their time and resources—whether it is sharing study tips or referring other students for job opportunities. There is very much a pay it forward attitude when it comes to helping each other advance in our academics and careers."