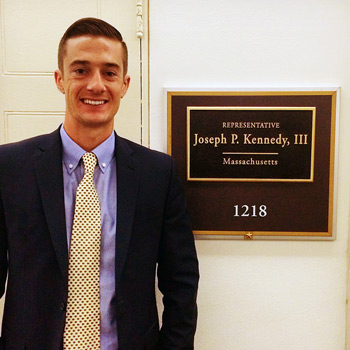 Brendan Corrigan first fell in love with Capitol Hill as a senior in high school when he served as an intern in the district office of Congressman Michael G. Fitzpatrick from his home district in Pennsylvania. Since then, Corrigan has hit the ground running in pursuit of his dream of working in public policy.
Born and raised in Bristol Borough, Pennsylvania, Corrigan graduated from Arizona State University, summa cum laude, with a degree in Political Science. This summer, Corrigan, in his last year pursuing his J.D. and M.P.A. at Miami Law, is serving as a Capitol Hill intern in the Office of United State Representative Joseph P. Kennedy III as a HOPE Fellow.
"In my first week alone, I've researched and drafted policy memos on a diverse spectrum of issues; from the federal Terrorism Risk Insurance Program to FAA regulations that protect the safety of airline passengers with food-related allergens to the ongoing conflict in Syria," said Corrigan.
Initially, Corrigan came to Miami Law with the intention of pursuing a career as a federal prosecutor because he saw the opportunity to help make communities and neighborhoods safer for all individuals. However, as an openly gay man, Corrigan became invigorated to pursue a career in policy and legislative advocacy.
"I feel a social responsibility and personal obligation to help cultivate a society more welcoming and accepting of LGBT individuals than that in which I, and preceding generations, experienced," he said. "In my estimation, LGBT equality is the next frontier in our nation's broader civil rights movement, and I am hopeful that my generation will bring to fruition the full equality and inclusion of LGBT individuals."
Prior to this summer, Corrigan has had a number of opportunities as a law student at Miami Law. Last summer, Corrigan was able to secure an internship with the Human Rights Campaign in Washington, DC. Additionally, he served as a law clerk for the United States Department of Justice, a judicial advocacy intern for Lambda Legal Defense and Education Fund, and a policy intern for the American Civil Liberties Union of Florida.
"The J.D./M.P.A. dual-degree program has enabled me to develop a foundational knowledge in the confluence of law, politics, and public policy," said Corrigan. "That knowledge directly pertains to the type of work that is conducted within a congressional office and has provided me with useful insights into several key areas, including the legislative and federal rulemaking processes, the contours of the U.S. Constitution, the functions of the United State Congress, and the relationship between federal, state, and local governments."
After graduation in 2015, Corrigan plans to work in policy and legislative advocacy within the context of LGBT equality advancement. Additionally, he would like to serve as a LGBT policy advisor to Hillary Clinton's presidential campaign and subsequently within her administration.
At the speed that Corrigan is going, it is evident that his future in public policy is bright and there is no slowing him down.