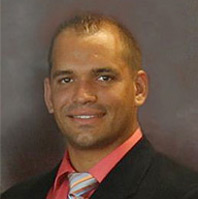 Cuban-born Miami Law student Jose Vazquez has served as an intern for the Miami STREET LAW program, helping to teach high school students about law, crime prevention, conflict resolution, youth advocacy, and the fundamental principles of democracy at Hialeah High School – his alma mater. Miami STREET LAW, which is an outreach program that trains current law students to teach law at schools throughout Miami-Dade County, made a real difference in Vazquez's law school career. He even expanded this program this year to another school, Hialeah Gardens Middle School.
"Working with students has made me a better lawyer," said Vazquez. "Through the STREET LAW Program I have learned how to translate complex material into an understandable format that high school and middle school students can understand. I became more confident in my public speaking skills and more energized about my law school career. During my first year of law school I felt overwhelmed by the law school curriculum to the point where I had lost track of why I had come to law school in the first place. However, when I began working in the STREET LAW Program and teaching high school students, I regained my focus and my passion—I started enjoying law school."
The goal of the Miami STREET LAW program is to empower youth through interactive education about law, democracy, and human rights while furthering the professional development of law students. Students who participate in the STREET LAW program obtain course credit while teaching law to high school and middle school youths. Since STREET LAW classes use interactive teaching strategies – including mock trials, moot courts and simulated negotiations—law students can hone their communication and analytical skills while gaining exposure to other professionals and the community.
"My most memorable experience working with the Miami STREET Law Program has been to expand the program this year to Hialeah Gardens Middle School," explained Vazquez. "Thanks to the dedication and help from the school's administration and particularly teachers Maribel Lopez and Aracelys Bonachea, as well as Miami Law's administration and Director Jessi Tamayo, we are now working with extraordinary young students who have tremendous interest in law. The students in the Law Academy at Hialeah Gardens Middle School draft legislation through their involvement in Project Citizen and they participate in mock trial competitions. It has been an absolute pleasure to help these middle school students in the work they already been doing and teach them about new areas of the law."
Vazquez immigrated to the United States from Cuba in 2001 when he was twelve years old. He earned a scholarship to attend Miami Dade Honors College, and then earned another scholarship to transfer to Georgetown University where he majored in Government. He was the first in his family to graduate from college.
"During my first year in the STREET LAW program I taught at Hialeah High School, which is the same high school I attended," said Vazquez. "It was a very rewarding experience to work with the teacher, Ana Soto, who had also been my teacher and mentor throughout high school. Specifically, while working with the students I saw a reflection of myself—a student with the potential to succeed, but does not know how to do it or if it is even possible. Having the opportunity to show these students through my own example that their dreams and goals could be accomplished was more powerful than any law lesson I could teach. I saw the students believe in themselves because they knew that someone just like them had accomplished what they thought was impossible."
Vazquez will be graduating this December, and plans on taking the Florida Bar in February, 2015. He will then start working as an Associate at the law firm of Shook, Hardy & Bacon LLP in Miami, Florida, which is the same firm where he worked as a law clerk in the firm's Kansas City office this past summer.