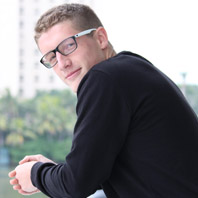 The University of Miami School of Law partners with fifteen schools in nine countries in its International Exchange Programs, and entails not just Miami Law students heading overseas, but also international students from those same universities coming to study at Miami Law.
"UM Law welcomes a number of international exchange students each semester. These students enrich our J.D. students' classroom experience with civil-law knowledge and a different educational and cultural perspective," says Sandy Abraham who handles Miami Law's semester exchanges.
On the inbound student side, Evariest Callens is visiting Miami Law this semester from Ghent University in Belgium.
Callens, from Kortrijk, a small city in Belgium, says living in a huge city like Miami was a serious adaptation. "Everything goes very fast and there is always something going on," said Callens. "At first I felt a bit lost in this metropolis. But once you start connecting with people you see the beauty of it. It is really a melting pot of different cultures, what makes it very interesting.
"One of the things that definitely surprised me most was the wide range of cultural activities going on in Miami," said the tall blond male with impeccable manners. "Discovering all the different places and cultures in Miami was an amazing experience."
One of the biggest differences Callens noted is in Belgium they don't have an undergraduate system. "I entered law school when I was seventeen; here in the U.S. everyone in law school is a lot older. This, combined with the more active teaching method, makes the law school experience very interesting. I was so much more motivated to go to school than I was in Belgium."
Abraham reaffirms this experience, "UM law provides our exchange students with an academically rich set of course opportunities, and an overall educational and campus experience that is very different and often more extensive than their own. Having sampled our Law School, they are often in a good position to consider returning for one of our LL.M. programs."
Callens says he decided to come to Miami because he felt it "has the best of all worlds," he said. "A high-rated American law school, very nice weather and the opportunity to meet people from all over the world. Could one wish for more?
"After law school I would like to work for an investment company. I am sure that my wonderful experiences here in Miami will be extremely valuable in the working field," Callens said. "The classes are way more practice focused here than in Belgium. You learn how to act in real life situations rather than theoretical reflections."
Two such students are Kevin Wu and Rachel Wu – Chinese students Miami Law's Jordan Samuels met while he was on an exchange at Peking University School of Transnational Law in Shenzhen, China. Samuels kept in touch with them and they are now coming to Miami Law to study in Spring 2015.
"Kevin and Rachel are two of the most gifted students at the law school and I distinctly remember their academic curiosity; Kevin and Rachel both audited classes even at times when their workload was already overwhelming," said Samuels. "I am confident that they will share the same sentiments about a family environment here at UM law that I felt while I was in China."
Both students are excited about their upcoming studies at Miami Law. "UM makes me feel energetic and friendly," said Kevin Wu. "Both the students and the faculty here are amazing and it would be an ideal place to enhance my experience."
"I'm so excited to learn in the beautiful campus and metropolitan city! Just think of crystal sky, endless sunshine and energetic young people makes me thrilled," said Rachel Wu. "Also, I was amazed by the performances of the UM moot court team in the Frankfurt investment arbitration and I believe UM can offer me a top-tier legal education."
Callens would agree, "The professors [at UM] are very approachable. In class you can discuss with them or share your opinion on the subject, something that is unthinkable in my country. "
---
The deadline to go on an international exchange for next fall semester is April 1st (with the exception of Bucerius Law School which is March 1st). Watch for an announcement of an International Semester Exchange Information session early next semester.