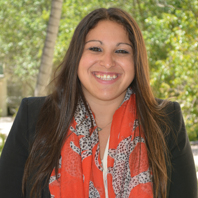 When it comes to immigration policy in the United States, there are few areas of the country as politically charged as Arizona, South Florida, or the Northeast, and one law student has lived in all three. Caroline Schwartz, a second-year student, used her unique perspective on immigration to better serve public interest by spending the summer working at Americans for Immigrant Justice (AIJ), a non-profit law and advocacy firm in Miami.
Schwartz is originally from Tucson, Arizona, and she graduated from Seton Hall University in South Orange, New Jersey. During her time in New Jersey, Schwartz earned a Bachelor of Science in Diplomacy and International Relations, as well as a new view on immigration policy.
"I thought everyone in America had to prove they were a citizen and that it was normal for the cops to pull you over if you were dark," Schwartz said about growing up in Arizona. "It wasn't until I moved to the northeast and went to college that I realized that wasn't normal." Schwartz's background in international relations helped to further cultivate her opinion on one of the country's most talked about subjects, giving her the tools she needed to understand the roots of the immigration situation.
"You always hear that we have to fix the immigration problem," Schwartz said, "but you have to look at the entire picture and not just fixate on the problem. You need to understand the why of it."
Now in Miami, Schwartz has spent her summer as a Summer Public Interest Fellow (SPIF). The SPIF Program is run by Miami Law's HOPE Public Interest Resource Center and pairs selected students with a public interest agency in Miami for eight weeks during the summer. In addition, students engage in a social justice workshop with students placed at agencies across Miami-Dade and Broward. Schwartz was placed with AIJ's Domestic Violence and Human Trafficking Division.
"Law is more about impacting people's lives than facilitating a contract," Schwartz said, and that's exactly the kind of work she did all summer through AIJ.
On some days, Schwartz and her supervising attorney went to the detention center to visit immigrant victims of human trafficking and domestic violence. There, they did "Know Your Rights" presentations and explained the avenues victims have to better their lives. Other days they spent helping victims file for visas that will protect them and allow them to stay in the country.
"I think getting out and working makes you realize there's more to being a lawyer than just your grades," Schwartz said. "What's amazing is that I get to come out of this knowing that I actually made a difference in somebody's life."
Schwartz's time in the Miami immigration arena has rounded out her perspective on the topic on a national scale.
"Where I come from [in Arizona] there are just no opportunities [for immigrants], and in the Northeast the cultural communities are so strong that it's often really easy for immigrants to stay in their communities and never assimilate," Schwartz said. "What's cool about Miami is that you can come here with nothing on your back and then after 20 years of hard work you can buy a house on Star Island."
In the future, Schwartz hopes to head her own full service law firm and to have the freedom to be able to take the cases that will make a difference, whether or not someone will be able to pay for the services. Her work at AIJ has shown her firsthand the plight of many immigrants, but more importantly is has shown her that she can play a part in helping them.
"You know when you have those days when you just don't want to go to work?" Schwartz asked. "I never have those days. This is one of the most rewarding things I've ever done."