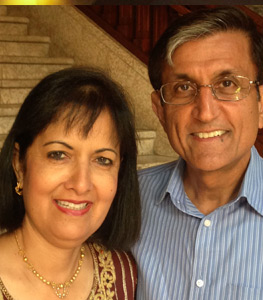 The Kapila Family Foundation, a small foundation located in Fort Lauderdale, Florida, recently established The Kapila Family Foundation Student Award for an outstanding Miami Law student competitor in the nationally recognized Duberstein Bankruptcy Moot Court Competition - one of the nation's preeminent moot court competitions that promotes and recognizes the finest oral and written advocacy on issues in bankruptcy practice. The gift will also name the moot court team that competes annually at the premier bankruptcy competition the "Kapila Miami Law Duberstein Moot Court Team."
"The Kapila Family Foundation wanted to provide scholarship funds based on merit and financial need, as well as support the University of Miami School of Law Duberstein Moot Court team," said Soneet Kapila, Director of the foundation and partner of KapilaMukamal, a forensic and insolvency consulting practice.
"We recognize the value of the moot court to offer a ground floor platform to law students to develop their trial skills as persuasive advocates by arguing their cases before prominent members of the legal profession," said Kapila.
Kapila is also a federal bankruptcy trustee in the Southern District of Florida and has been appointed as a fiduciary in several cases in the Middle District of Florida.
"For over twenty years I have focused the efforts of my firm in the areas of forensic and insolvency consulting," said Kapila. "I have had the opportunity to work with many outstanding graduates of the School of Law. By providing financial support I can, in a small way 'give back' for the success and good fortune my family and I have achieved since migrating to South Florida."
Professor Patricia Redmond, Director of Miami Law's Eleanor R. Cristol and Judge A. Jay Cristol Bankruptcy Pro Bono Bankruptcy Assistance Clinic, helps prepare students for the Duberstein Moot Court Competition.
"The Kapila Family Foundation award to name the Kapila Miami Law Duberstein Moot Court team serves to recognize the extraordinary accomplishments of the team over the past 15 years and the contribution that the students make to the bankruptcy system," said Redmond. "Each year the monetary award will be given to the outstanding UM competitor. That student will be honored by the Kapila Foundation and the Bankruptcy Bar and Bench."