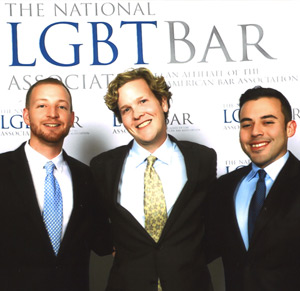 Charles C. McGinley, II, a 3L from Savannah, Tennessee, was elected to serve as the 2013-2014 student representative to the National LGBT Bar Association's Board of Directors at this year's Lavender Law conference and career fair. He was also selected to chair the newly formed Youth Issues committee. This year marked the 25th anniversary of the Lavender Law Conference, an annual event hosted by the National LGBT Bar Association which draws more than 1,500 attendees each year to discuss the most current legal topics affecting the LGBT community.
McGinley has served in a leadership role with the National LGBT Bar Association for more than a year. Last year, he was elected to the Law Student Congress as the Regional Chair for Florida & Puerto Rico.
The conference was held in San Francisco in late August.
"Lavender Law provides an amazing opportunity, unlike any other I have found as a student," said McGinley, "to meet and interact with the leading practitioners, academics, activists, and leaders on LGBT legal issues from around the country, and exchange ideas on the real issues facing the community today."
Lavender Law includes two main components: a one-day career fair followed by two days of conference meetings. The career fair is the largest minority legal career fair in the nation with more than 150 employers and 500 students in attendance.
The conference portion included general attendance sessions discussing a variety of broad topics – progress on LGBT civil rights over the past 25 years, LGBT Family Law, and recent developments in relationship recognition, and the future of the movement. Additionally, there were more than 50 1.5-hour workshops, led by attorneys, judges, and other experts on very specific legal topics or issues offered during five concurrent workshop sessions. Some of the topics included estate planning for LGBT families, raising awareness and visibility of domestic and sexual violence in the LGBT community, sodomy laws still on the books, and psychological abuse of LGBT individuals through conversion or reparative therapy.
Speakers included Robbie Kaplan, attorney for Edie Windsor in the recent successful challenge of DOMA; Kristin Beck, former Navy Seal and member of SEAL Team six, who recently revealed her identity as a transgender woman on Anderson Cooper's 360° show and released a memoir Warrior Princess: A U.S. Navy SEAL's Journey to Coming out Transgender; Chief Justice Mark Cady of the Iowa Supreme Court who wrote the Varnum opinion in 2009 making same-sex marriage legal in Iowa (and resulting in a campaign against retention in 2010 that cost three of his fellow justices their seats on the court); and Senator Ted Lieu (D-CA), author of a bill banning the use of so-called conversion therapy on minors.
McGinley serves currently as Co-President of OUTLaw on campus, and also as a Co-Chair for the Young Guardians of SAVE Dade, Miami-Dade County's leading organization dedicated to protecting people who are lesbian, gay, bisexual, and transgender (LGBT) against discrimination.
Miami Law had two other students attending the conference: Kevin Correa and Frank Whitaker, both 2L officers with OUTLaw.