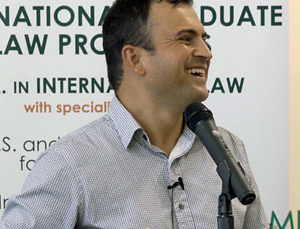 Dr. Elton Skendaj presented his lecture "Intervention in Syria: Sovereignty and the Responsibility to Protect" at Miami Law on September 24 as part of the International Law Lecture Series, sponsored by the International Graduate Law Programs.
Dr. Skendaj is a Visiting Assistant Professor in the University of Miami's Department of Political Science. His research focuses on how international and local individuals can sustain peace and democracy in post-war societies. His forthcoming book examines the role of international actors in building effective state bureaucracies and democratic institutions in post-war Kosovo.
He has worked with international organizations and civil society organizations in Europe and the U.S. Dr. Skendaj was the National Coordinator for the joint project of the UN Department for Disarmament Affairs and the Hague Appeal for Peace. He holds a Ph.D. in government from Cornell University.