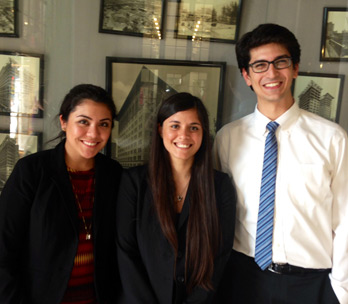 Students from Miami Law's Professional Responsibility & Ethics Program (PREP), Ross Militellos, Alexandra Friz and Paulina Valanty, recently presented a CLE Ethics training for Catholic Charities Legal Services.
The presentation focused upon immigration law and the ethical considerations pertaining to "friend of the court" appearances, frivolous asylum applications, and legal services intake interviews. Specific issues that were discussed included the formation and proper termination of an attorney-client relationship, the BIA's interpretation of 'frivolous,' and the duties owed to prospective clients.
After the presentation, Executive Director Randy McGorty of Catholic Charities Legal Services thanked the PREP law students and PREP Director Jan L. Jacobowitz for a "highly relevant and engaging training."
Valanty, PREP intern and first-time presenter, commented that "it was a fantastic opportunity to hone our public speaking skills while illustrating complicated ethical issues to a great group of attorneys."
Friz, also a PREP intern and first-time presenter at Catholic Charities, described the presentation as "a meaningful learning experience for both the attorneys and the PREP interns. It was exciting to discuss real-life scenarios with such a skilled group of immigration attorneys."
Militello appreciated "the opportunity to visit Catholic Charities and participate in another lively and thought-provoking discussion about the ethical minefield that Catholic Charities navigates each day."
PREP, a 2012 recipient of the American Bar Association's Smythe E. Gambrell Award, was established in 1996 as an in-house program within the Center for Ethics and Public Service at Miami Law. PREP's programming originated as an outgrowth of a collaborative effort with the nonprofit legal community to provide training on ethics issues arising in the context of serving the underprivileged. Today, PREP has expanded to present ethics training to lawyers working throughout the legal profession in venues ranging from small gatherings at nonprofit offices to large bar association meetings and national webinars.