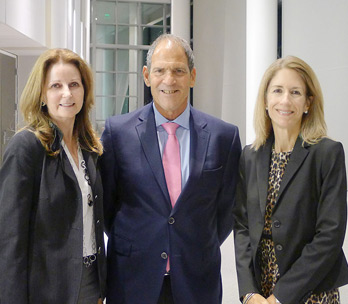 After a long and difficult competition, 2Ls Erin Sales and Alyssa Landino took home first place at the John T. Gaubatz moot court competition, the main moot court contest at Miami Law.
In the final round of the competition, Sales and Landino squared off against fellow 2Ls David Coulter and Daniel Ferrante in a problem dealing with the 4th Amendment right to privacy of individuals as guaranteed by the U.S. Constitution versus the government's interest in using cellular phone data to gather intelligence about suspicious persons.
The competitors argued their respective positions in front of three very distinguished judges. On the bench sat Judge Cecilia M. Altonaga and Judge Kathleen M. Williams, JD '82, both of the U.S. District Court for the Southern District of Florida, and the presiding judge, Judge Andrew D. Hurwitz of the United State Court of Appeals for the Ninth Circuit.
Coulter, who was awarded best oral advocate, began the competition by arguing that the appellant's conviction should be reversed because evidence used for the conviction was obtained in violation of the 4th Amendment when police used cellular phone data to track the appellant's movements.
Ferrante stood before the judges following Coulter to argue that the government compelled the appellate to confess after his client invoked the "right to remain silent" during an interrogation.
Coulter and Ferrante delivered convincing arguments. However, it was Sales and Landino, representing the government, whom the judges ultimately decided with on both issues. Landino argued that the government does not violate individual privacy by using cell phone information to track a person's whereabouts because cellular phone use indicates voluntary participation with cell phone companies.
Justice Altonaga questioned Landino, "How is it voluntary when cell phone users don't have a choice but to expose their activity to cell companies?" Landino argued strongly that phones only reveal the same information that an officer would legally obtain by following suspicion persons by foot or in a car.
Sales was similarly impressive as she contended that the government did not coerce a confession from her client. Despite a strong rebuttal by Coulter to close the competition, the judges returned from a brief deliberation to side with Sales and Landino on all issues.
The judges were very impressed with all four final competitors and praised Miami Law as a whole. Justice Hurwitz parted with a few words of wisdom, encouraging aspiring attorneys to "never let a judge intimidate you" and to "stick to the fight – when think you are right don't worry about the implications of your position." The competition was hosted by the Charles C. Papy, Jr. Moot Court Board. The top performers will be placed on the Gaubatz Competition Cup, which is displayed in the Law Library. The competition is named in memory of Miami Law Professor John T. Gaubatz, who directed both the graduate program on estate planning and the Philip E. Heckerling Institute on Estate Planning.
New Moot Court Members:
Leah Aaronson
Karla Albite
Natalie Balsinde
Justin Berezin
Nejla Calvo
Jamey Campellone
David Coulter
John Criste
Ashley Duncan
Daniel Ferrante
Caitlin Griffin
Erica Haft
Matthew Hier
DJ Hodson
Natasha Khoyi
Alyssa Landino
Berenice Mottin-Berger
Joseph Picone
Zach Rickers
Erin Sales
Nicole Sohn
Sara Solano
Lance Stephan
Alex Strassman
Mathri Thannokkotu
Tara Turner
Morgan Vosbikian
Patrick Wilson