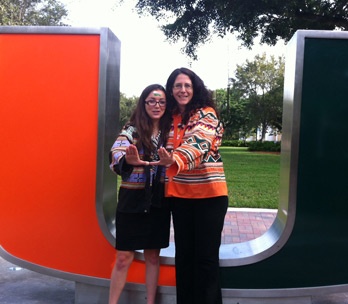 Miami Law students Corey Gray and Leah Weston, along with recent graduate Catherine Kaiman, were inducted into Iron Arrow, the University of Miami's oldest tradition and highest honor society. Miami Law alumnus Steven J. Brodie, J.D.'81, was also tapped.
Third-year Corey Gray is Editor-in-Chief of the National Security and Armed Conflict Law Review, Trial Team Vice President, Semifinalist in the FJA Regional Mock Trial Competition, and a member of the Society of Bar and Gavel. Gray holds the Litigation Skills Thomas Ewald Award, the Kozyak, Tropin & Throckmorton Litigation Scholarship, and the Armando Alejandre Memorial Scholarship.
"I was floored by this honor," said Gray. "For me, being 'tapped' has strengthened my resolve to effectuate change through the power of relationships and community."
Gray interned for U.S. Senator Bill Nelson before joining the U.S. Army. He is from Palm Beach County, a Captain in the U.S. Army Reserves, and served five years on active duty including two tours in Iraq. He is a clerk in the Office of the U.S. Trustee, and an intern at Miami Law's Bankruptcy Clinic. He interned for Florida's Third District Court of Appeal Judge Thomas Logue. He has also clerked at the City of Miami Office of the City Attorney and interned at Miami Law's Health Rights Clinic.
Gray is a Foreign Disclosure Officer with U.S. Southern Command and a highly decorated military officer. He is married to Marissa Gray, JD '10. They are expecting their first child in December.
Leah Weston is both a Harvey Reid Scholar and Miami Scholar. She has remained on the Dean's List all semesters at Miami Law and won the CALI Award for Excellence in the Future, as well as the Dean's Certificate of Outstanding Performance on the Comprehensive Skills Test, for Legal Research and Communications I & II.
Weston currently works at the Community Justice Project of Florida Legal Services, where she also worked this summer as an Ella Baker Intern, an innovative training program for future community lawyers. In August, Weston traveled with the CJP to Tallahassee to provide legal support to the Dream Defenders — a multiracial organization of youth and students formed shortly after 17-year-old Trayvon Martin was shot and killed by Neighborhood Watch volunteer George Zimmerman. The CJP and the Advancement Project worked with the Dream Defenders on a set of proposals called Trayvon's Law, which seek to abolish the controversial "Stand Your Ground" law, outlaw racial profiling, and end mass incarceration.
Weston has also interned at Miami Law's Death Penalty Clinic. Following her first year, she was a judicial intern for federal magistrate Judge Barry L. Garber. You can also catch her on the airwaves on the student radio station, WVUM 90.5 FM.
"I feel so fortunate to have even been considered for membership in Iron Arrow," said Weston. "The University of Miami has offered me so many opportunities to pursue my passions and I feel truly honored to be a small part of carrying on the University's legacy."
Catherine Kaiman, who is working toward her Masters in Public Health as part of theJ.D./M.P.H. joint degree program, received her Juris Doctor degree in 2013. In high school, she co-founded a chapter of STAND — Students Taking Action Now: Darfur — and traveled to Washington D.C. with her peers to discuss the genocide with members of Congress. At Florida International University, Kaiman spent her senior year working with the American Civil Liberties Union of Florida.
At Miami Law, she was Editor-in-Chief of the Race and Social Justice Law Review and recipient of the Falk, Waas, Hernandez & Cortina, P.A. Scholarship. She served as president of the University of Miami Chapter of Law Students for Reproductive Justice, which she founded with law students Luis Ramos and Mary Delcamp. She was a member of the Society of Bar and Gavel, winner of the Charles C. Papy Jr. Moot Court Board Negotiation Competition, and a Summer Public Interest Fellowship Program Recipient.
Kaiman has interned at Legal Services of Greater Miami, Inc. and at Miami Law'sChildren and Youth Law Clinic, and served as a research assistant focusing on international human rights law to Christina Zampas, a Practitioner-in-Residence and Supervising Attorney with Miami Law's Human Rights Clinic. She was also a summer law clerk at the Southern Poverty Law Center in Miami, focusing on juvenile justice reform.
"I am greatly honored to have been tapped by Iron Arrow," said Kaiman. "I hope to honor the traditions and history and continue to serve the University of Miami and the greater community. As a woman, I am particularly excited to honor the legacy of women in Iron Arrow."
Steven Brodie, J.D.'81 cum laude, has a diverse trial and business practice with Carlton Fields. He is a commercial litigator in state and federal courts. He has served as President of the UM Citizens Board, during which he created CB Connects U, a program fostering relationships with UM and local business leaders.
Founded by UM's first president, Bowman Foster Ashe, in 1926, a month after the university opened, the Iron Arrow Honor Society is steeped in the rituals of the Seminole Indian tribe and honors individuals who best exemplify five qualities: love of alma mater, character, leadership, scholarship, and humility. Members are easily identified by their brightly colored Seminole jackets, worn at official functions.