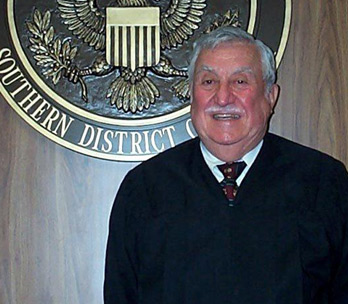 Miami Law alumnus A. Jay Cristol was recently selected as the 2013 recipient of the Lawrence P. King Award for Excellence in the Field of Bankruptcy. The Lawrence King Award was established in 2001, to recognize a lawyer, jurist, teacher or legislator who exemplifies the best in scholarship, advocacy, judicial administration or legislative activities in the field of bankruptcy.
Cristol is Chief Judge Emeritus of the U.S. Bankruptcy Court in Miami. He spent 18 years as a Naval aviator before joining the Judge Advocate General's (JAG) Corps, where he graduated with distinction from Naval Justice School. Judge Cristol then served as a lawyer for another twenty years, with duties that included teaching law of war and serving as the administrative officer for the summer Naval Reserve law courses. In civilian life, Judge Cristol became a lawyer and practiced civil law. He served as Special Assistant Attorney General of Florida and, after 25 years of law practice, he left his position as senior partner in a firm he founded to accept an appointment to the federal bench. Judge Cristol earned a Ph.D. from the University of Miami Graduate School of International Studies through his research of the Liberty Incident – an attack on the USS Liberty that occurred during the Six Day War in 1967. Judge Cristol's research later led to a book about the incident. Judge Cristol teaches Reorganization in Bankruptcy at Miami Law, a seminar that studies principal issues raised by Chapter 11 of the Bankruptcy Code.
The Bankruptcy Assistance Clinic at Miami Law is named in Judge Cristol's honor.