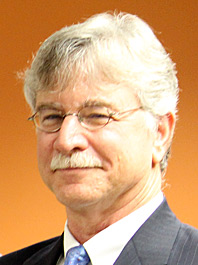 In an effort to support legal advocacy for Florida's foster children, The Florida Bar Foundation has awarded a grant of $100,000 toward Miami Law's Children & Youth Law Clinic. The grant, whose funds are being made available by the Batchelor Foundation, honors Miami Law alumnus Burton Young, J.D. '50.
Professor Bernard Perlmutter, co-director of the Children & Youth Law Clinic, said the award comes at a time when The Florida Bar Foundation's grants are being significantly reduced because of a steep drop in revenue from Florida's Interest on Trust Accounts program, the chief source of funds for the foundation's grants. "So in a year when we were expecting a 28 percent cut in the Bar Foundation's grant for our Statewide Foster Children's Advocacy Project," he said, "the Batchelor Foundation's gift is an act of great generosity that will help us to continue our 17 years of advocacy for Florida's foster children."
Young, an expert in family and marital law and a leader of judicial reform, was instrumental in making the award a reality. The late George Batchelor, an aviation pioneer who established the foundation, was a good friend and client of Young's. Professor Perlmutter said Young had asked the Batchelor Foundation to make the funds available to the Bar Foundation for legal services for children. The Batchelor Foundation directed the funds to the Children & Youth Law Clinic.
Young was the first Jewish-American president of The Florida Bar. Over the past six decades, he has made his mark as champion for the underserved, whether through pro bono work or by leading the charge to establish fairer legal standards. He was the 2010 recipient of the Miami Law's Alumnus of Distinction award.
"We are incredibly grateful to Mr. Young, the Batchelor family, and The Florida Bar Foundation for their support of our legal advocacy on behalf of the most vulnerable persons in our state – child victims of parental abuse and neglect placed in foster care, and young adults who have aged out of foster care," Professor Perlmutter said.
The Batchelor Foundation, based in Miami Beach, has supported many programs at the University of Miami. The foundation supports organizations involved with arts and culture, education, the environment, animals and wildlife, health, human services, and economically disadvantaged people.
The Children & Youth Law Clinic primarily assists current and former foster youths in matters of dependency, health care, mental health, disability, independent living, education, immigration and other civil areas, ensuring that they have a voice in court proceedings. The Statewide Foster Children's Advocacy Project has been funded by the Florida Bar Foundation through the Children's Legal Services grant program for ten years.