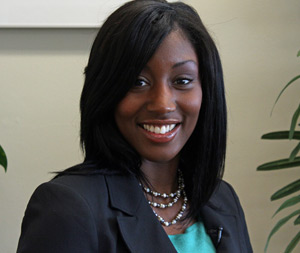 Rising second-year law student Shekida Smith has been appointed National Student Director for the ABA Law Student Division's National Appellate Advocacy Competition (NAAC) Subcommittee.
The appointment was based on many factors including Smith's excellent qualifications and interest in becoming a national representative of the Division's Competitions Program.
"The American Bar Association provides a wonderful opportunity to law students to be able to gain practical experience by engaging and interacting with attorneys from all over," said Smith. "I was extremely honored to be selected to serve as a National Student Director. My interest in contributing to the ABA programming, coupled with my interest in the subject matter of the competition I will be organizing, certainly made the position appeal to me. I greatly look forward to the coming year."
Smith is currently a summer intern at Carlton Fields and was recently selected as the Shook Hardy & Bacon Writing Fellow. She was also awarded a Dean's Honor Scholarship and Robert H. Waters Memorial Scholarship. She is a member of the Black Law Students Association, participated in the James Weldon Johnson/Robert H. Waters Summer Institute and was named Winner of the Best Oral Advocate Competition. Smith received the CALI Award for Excellence for Property, Fall 2012, and was on the Dean's List in Fall 2012.
The liaison/NSD one-year appointment process is very competitive due to the high volume of exceptionally qualified applications received by the Division. Far more applications were received than were available positions for placement.
As National Student Director, Smith will serve as the student representative to the NAAC Subcommittee by submitting regular reports and information about the NAAC for use with the Student Lawyer magazine and historical files, recording committee meeting and conference call minutes, reporting to the National Student Director activities to the Division, and promoting NAAC at Circuit and Division activities and meetings through communications and/or attendance.