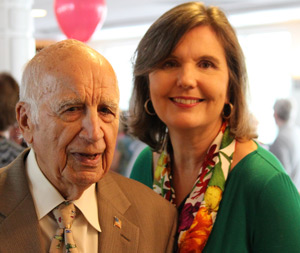 Not surprisingly, it was standing room only at Karen Throckmorton's farewell fete, and not just because of the lure of sweet laden tables of treats. As with every truly good celebration, there were laughs and tears, and a tiny touch of a celebrity roast, as is befitting for such a powerful force of positivity, cheerfulness, grit, and just downright sweetness.
It was a prestigious gathering of the judicial heavyweights – U.S. District Court Judge William M. Hoeveler, for whom the young Throckmorton clerked, and U.S. Magistrate for the Southern District Peter Palermo, J.D.'50. There were also many former students, family, members of the faculty and administration – all who shared admiration for the venerable head and founder of Miami STREET Law.
Included among the kudos were references to Throckmorton's hankering sweet tooth and miraculous one-year recovery from a momentarily thrilling then tragically debilitating fall.
"Thank you, Karen, for showing us how one can be a gracious person and how one can deal with physical adversity with just unbelievable courage," said Dean Patricia D. White. "You are an inspiration to all of us."
Miami STREET Law is an educational, legal outreach program that trains current law students to teach law at schools throughout Miami-Dade County. The program strives to change the lives of teens by introducing them to legal analysis and critical thinking, provide contemporary positive role models, and further the professional development of law students through their teaching of the law.
"I want to thank you for sharing your knowledge and your wisdom with us, your students, without any air of superiority, open instead to the idea that you could be exposed to new things right along with us," said Rob Collins, J.D.'11, one of Throckmorton's Street Lawyers from 2009 to 2011. "You tested us, you expected us to face our fears, to go into new environments, to forge new relationships, and to roll with the punches if and when our meticulous planning went up in smoke, which it almost always did."
In keeping with the multiple references to Throckmorton's lovability, the combined sugar content of the offerings would make the bakery case at Versailles blush with envy in cookies and cakes and all manner of things dunked in chocolate. Ne'er a crudité in sight.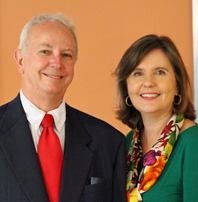 In a commentary on Throckmorton's road to Miami Law, Professor Anthony Alfierirecounted a discussion with then Dean Dennis Lynch: "The real reason we need to hire this person is that she was the room mother at the kids' schools. If this person has the skills to be a room mother for nine years in a row, we have got to hire her," Alfieri said. "We did have some sense that we were hiring a cracker jack person, but we had no idea how fast she would build not just a regionally respected, but a nationally respected program, in STREET Law, and that she would win so many awards so quickly."
Throckmorton was a lecturer in law at the law school as well as the director of the Miami STREET Law program. She was graduated from Duke University cum laude in 1976 with a bachelor of arts in history. In 1981, she earned her Juris Doctor from the University of Miami School of Law and received the Lawyer's Title Guaranty Fund Award for Writing. She completed her Masters in Law in Estate Planning in 1987. After two Federal clerkships with then-Chief United States Magistrate Peter R. Palermo and United States District Judge William M. Hoeveler, she practiced law at Mershon, Sawyer, Johnston, Dunwody & Cole specializing in estate planning.
As much as Miami Law will miss the joie de vivre of Throckmorton's presence, Jessi Tamayo will be taking on the yoke of STREET LAW. Tamayo is a graduate of Boston College and Fordham Law School. "Jessi is a brilliant, caring, hardworking lawyer, and professor," said Throckmorton. "She is the perfect person to bring new energy and ideas to STREET Law.
"As for me, directing STREET Law has been a challenge, a delight, and an honor," Throckmorton said. "The greatest inspiration to me has been from the students who work as Street Lawyers; they are my heroes."