Supreme Court Justice Anthony M. Kennedy at Miami Law after meeting with Dean Patricia D. White in her office on Feb. 11, 2013. (Photo: Nick Madigan/Miami Law) 
Some years ago, during a visit to his native California, Justice Anthony M. Kennedy was approached in a restaurant by a lawyer from Ukiah who recognized him as a member of the Supreme Court.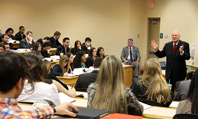 "He must have been a C-SPAN junkie or something – nobody knows what we look like," a smiling Justice Kennedy told an audience at the University of Miami on Monday. He recalled the lawyer from Ukiah saying that his father, as a prisoner in Germany during World War II, had made American flags out of bits of cloth, only to have them confiscated again and again by Nazi guards.
Decades later, having survived the war, the lawyer's father objected strenuously to the Supreme Court's ruling in Texas v. Johnson that burning an American flag was protected speech under the First Amendment. The lawyer recounted to Justice Kennedy that his father had come to him in a fury, telling him that he "should be ashamed of being a lawyer." The lawyer responded by handing his father a copy of Justice Kennedy's concurrence in the 5-4 decision, which said in part that "it is poignant but fundamental that the flag protects those who hold it in contempt." A few days later, having read the document, the former POW said to his son, "You should be proud of being a lawyer."
Justice Kennedy told that story twice on Monday, once to a group of Miami Law's top students and later to an audience of almost 2,000 people in the Fieldhouse on the university's Coral Gables campus.
"That's an opinion working at its best," Justice Kennedy said. "They don't always work out that way."
Justice Kennedy's visit – only ten days after an appearance on campus by his colleague Justice Sonia Sotomayor – provided students with a gripping insight into the thinking of the Supreme Court's fourth most senior member. It was especially significant for the first-year students in Professor Caroline Mala Corbin's Constitutional Law class, who had Justice Kennedy all to themselves at the start of the day.
He spoke at length about the Framers of the Constitution, the Bill of Rights, the separation of powers and the concept of checks and balances, and frequently tested the students' knowledge. "Are the words 'checks and balances' in the Constitution?" he asked. "I'll buy you a bottle of beer if you can find it."
He said he often did his reading of case files to a background of operas, and, for diversion from legal matters, likes to read the Greek philosophers and Shakespeare. "A serpent stung me," he quoted from Hamlet, "so the whole ear of Denmark is by a forged process of my death rankly abused."
Turning back to the present day, Justice Kennedy said it is a "disgrace" that with hundreds of thousands of inmates in federal prisons, presidential pardons are given to "only four or five" a year. "I've told the president that," said Justice Kennedy, who joined his Supreme Court colleagues at President Obama's State of the Union address the day after his trip to Miami. "I've told that to all the presidents. Don't get me started on that."
He said also that the Congress "is squandering your heritage with its spending," and that legislation too often moves at a snail's pace. "Six years to decide what the speed limit on a highway should be? How can you run a superpower like that?"
Justice Kennedy urged the students to study the Constitution, the Bill of Rights and other foundational documents, although he acknowledged that some of them are tough going. "I'm not going to ask you to read the Constitution cover to cover," he said, "but I am going to ask you to read Articles 1, 2 and 3."
The law in the United States is designed to "preserve intact the DNA of freedom," he told the class.
Later, addressing a group of about 20 outstanding second- and third-year students in the Faculty Meeting Room, Justice Kennedy said he was "discouraged about the lack of principled discourse in this country."
"There's too much emotion and not enough rationality," he went on. "We teach, and we have to teach by the language that we use. I think it's important for us to set the example of what the modern discourse in a proud democracy should be. I'm extremely careful about my own language."
He said that uncivil discourse was nothing new, especially in politics, but that the United States must set an example for other nations. "The verdict on freedom is out," he said, "and the rest of the world is watching."
In response to a question from a student about the pitfalls of mixing justice and politics – with particular reference to Bush v. Gore – he said, "Of course we decide cases with political consequences, but we don't decide them in a political way."
Justice Kennedy said he was "very worried" by the downturn in the newspaper industry, and that when journalists who cover police and courts are laid off, there is no one to report that, for instance, "a judge doesn't know what he's doing."
"We're losing that," he lamented.
Legal education and practice, he noted, is going through its own evolution. "The dynamic is changing. I don't want you to be discouraged, but it is changing." Justice Kennedy told the students that lawyers are "losing a lot of cases to arbitration" and that "we have a recruitment problem of major proportions" with respect to federal judges.
"The strength of the law is that each generation learns from the previous generation. I went to make sure that law schools continue to attract the best people," he said, sweeping his hand across the room, which held the law school's highest-scoring 2L and 3L students.
"I'm too dated to give you career advice," he told the students with a laugh, although everything he said gave the firm impression that he was anything but out of touch.
Sam Wardle, a third-year student who is a Dean's Fellow and a Soia Mentschikoff Scholar, said after the session that Justice Kennedy was "really honest and insightful about how the legal field is changing for lawyers."
"There was a real contrast between him and Sotomayor," Wardle said. "Her talk was very personal and had very little to do with the law, but Kennedy seemed very concerned with the courts, with the legal profession and with the law generally." Wardle said he was particularly interested in Justice Kennedy's comments about the perception that he is widely considered the Supreme Court's "swing vote."
"He's often criticized for being inconsistent," Wardle said, "but his defense was that 'the cases change, I don't' – and that was really interesting. He seemed to put some of the blame on our political discourse and some of the broken aspects of our political system. I think he sees himself and the court as a way to fix those problems."
At the Fieldhouse, Justice Kennedy was introduced by University of Miami President Donna E. Shalala and then gave a talk as part of the Robert B. Cole Distinguished Jurist Lecture Series. The Cole Lecture was established in 1985 through the generosity of the former Miami law firm of Mershon, Sawyer, Johnston, Dunwody & Cole. The lecture honors the late Robert B. Cole, a member of the Florida Bar since 1935 and partner in the firm. Cole served for many years as the principal legal advisor to the University of Miami and served on the School of Law's Visiting Committee. He died in 1997, and had made provisions in his will so that the lectures would continue. His son, Richard P. Cole, also an attorney, continues to sponsor the lectures in memory of his father, and was present for Justice Kennedy's address.