Supreme Court Justice Anthony M. Kennedy at Miami Law after meeting with Dean Patricia D. White in her office on Feb. 11, 2013. (Photo: Nick Madigan/Miami Law)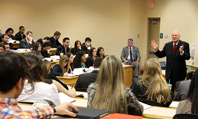 Supreme Court Associate Justice Anthony M. Kennedy visited Miami Law on February 11, and took part in the Robert B. Cole Distinguished Jurist Lecture Series. He also taught a class.
Justice Kennedy's day began early at Miami Law, where he was greeted by Dean Patricia D. White before he addressed students in a Constitutional Law class. He then had lunch with members of the faculty. At 5:30 p.m., he delivered the Cole Lecture in the Fieldhouse at the BankUnited Center. He spoke about the inner workings of the Supreme Court, which was followed by a question-and-answer session moderated by Vice Dean Patrick Gudridge.
Nominated by President Ronald Reagan, Justice Kennedy took his seat on the Supreme Court in 1988. A graduate of Stanford University, the London School of Economics and Harvard Law School, he was in private practice in California from 1961 until 1975. He was Professor of Constitutional Law at the University of the Pacific's McGeorge School of Law from 1965 to 1988. He has served in numerous positions during his career, including as a member of the California Army National Guard in 1961, the board of the Federal Judicial Center from 1987–1988, and two committees of the Judicial Conference of the United States. He was appointed to the United States Court of Appeals for the Ninth Circuit in 1975.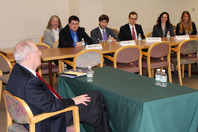 The Robert B. Cole Lecture was established in 1985 through the generosity of the former Miami law firm of Mershon, Sawyer, Johnston, Dunwody & Cole. The lecture honors the late Robert B. Cole, a member of the Florida Bar since 1935 and partner in the firm. Cole served for many years as the principal legal advisor to the University of Miami and served on the School of Law's Visiting Committee. He died in 1997, and had made provisions in his will so that the lectures would continue. His son, Richard P. Cole, also an attorney, continues to sponsor the lectures in memory of his father.
The lecture provides a forum for faculty members, students and practicing attorneys to hear distinguished jurists and public figures discuss important legal and international matters. Previous speakers have included eight members of the Supreme Court – Chief Justice Warren E. Burger, Chief Justice William Rehnquist, Justice John Paul Stevens, Justice William J. Brennan, Jr., Justice Harry A. Blackmun, Justice Antonin Scalia, Justice Sandra Day O'Connor and Justice Stephen G. Breyer – as well as George J. Mitchell, the former majority leader of the U.S. Senate, and Alex Kozinski, Chief Judge of the U.S. Court of Appeals for the Ninth Circuit.