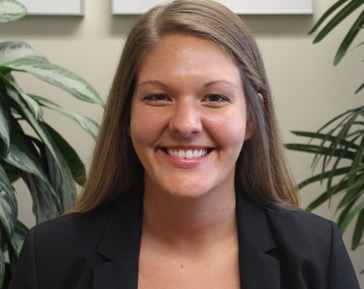 Kathryn J. Walker is what some would call a "no foolin' girl." She seems to embrace life with a special sparkle in a way that so few do, taking on projects and truly pushing them far beyond their humble beginnings. A summer job in college turned into a second summer, then a gap year, followed by a passion on which to build a career.
Little did Walker know that when she applied to a job posting in the Daily Tarheel, the University of North Carolina student paper, her rising junior summer's work with the developmentally disabled would have so profound effect on her future.
"There is a day program at Residential Services Inc. in Chapel Hill, run for their school-aged residents who are out of school for the summer," Walker said. "I had an interview, then went on a home visit, met some of the residents, and knew immediately I wanted the job."
During her gap year, she ran a group home specially designated for men with autism. "My time there was challenging and wonderful and definitely inspired my commitment to the disability rights movement," she said. "I loved my job; it was very inspirational and let me see the real needs of that population firsthand."
Walker was a summer legal intern at the Department of Justice, Civil Rights, Disability Rights Section, in Washington, D.C. then stayed on to complete her Masters of Public Health at the Judge David L. Bazelon Center for Mental Health Law. She will graduate this month with a joint Juris Doctor/Master of Laws in Public Health.
"Kathryn is so energetic and positive and dedicated that she has been an inspiration to me," said Susan Stefan, a visiting professor and one of the country's most highly regarded experts in mental disability law.
Walker was born in Lincolnton, North Carolina, just outside Charlotte. Her family later moved to the burgeoning town of Mebane (population 11,562) outside Chapel Hill.
She knew in 2nd grade that she wanted to be a lawyer "although I grew out of it for a while," she said. "I've always been rather argumentative, so lawyer was an easy thing to say." At Eastern Alamance High School, home of the Eagles, the 5'10 blonde played basketball, was a bass drummer in the marching band, appeared as Jack in the Beanstalk's mother in Stephen Sondheim's musical Into the Woods, and looked forward to the last day of classes – Tractor Day – when all the students drove farm machinery to school.
At the University of North Carolina at Chapel Hill, Walker received a duel Bachelor of Arts in English and Psychology, was on the Dean's List, in the Marching Tarheels and Percussion Ensemble, member of Alpha Phi Omega Community Service Fraternity, Musical Director of Heels 2 Heaven Christian Choir, and coached Special Olympics. She also studied American Foreign Policy and Law and Psychology at Harvard University.
Getting a scholarship in Miami Law's Miami Scholars Public Interest Program, based on her commitment to public interest work lured her to Miami Law, as well as the joint J.D./M.P.H. program.
Ranked near the top of her class, Walker has distinguished herself both academically and in her activities at Miami Law. She was an Articles and Comments Editor on theUniversity of Miami Inter-American Law Review, was awarded the Dean's Certificate of Achievement in Civil Procedure I and the CALI Excellence for the Future Award in Torts and was a HOPE Summer Fellow. She completed the HOPE Pro Bono Challenge, was listed on Who's Who Among Students in American Universities and Colleges, organized a team for the Dan Marino Walk for Autism, and participated in Books and Buddies, a volunteer outreach program.
She also was a legal intern at Disability Rights, Florida, working on institutional conditions and human rights issues for the disabled; a legal intern at the United States Department of Health and Human Services, Office of the General Counsel, Centers for Medicaid and Medicare Division; was a legal intern at the Law Offices of Matthew W. Dietz, working on fair housing and ADA issues; worked as a Clinic Intern at Miami Law'sHealth Rights Clinic; and interned in the Miami-Dade Office of the Public Defender in the Felony Mental Health unit.
Walker says that of her experiences at Miami Law, one was more pivotal than the rest: "The HOPE program was incredibly influential in shaping the way that I think about disability rights and exposing me to different types of public interest law. HOPE gave me the resources to really explore different options in the public interest realm and continually reminded me of all the good that is being done; it has been a constant reminder for me why I am here and why I am working so hard," Walker said.
"Kathy embodies the type of student and Miami Scholar we cherish," said Marni Lennon, Assistant Dean for Public Interest and Pro Bono. "She is a principled and passionate advocate for disability rights and has been a dedicated student throughout her time at Miami Law. She has maximized her experiences through interdisciplinary study, leadership, and seized the opportunity to hone her advocacy skills through work and externships. As she heads to Washington D.C. to complete her studies while working with the Department of Justice and then the Bazelon Institute for Mental Health Law, we are so proud of the lawyer she is becoming and know that she will be a leading force in disability rights."
Walker has only one small regret: During late high school and college, she practiced ridding herself of her Southern accent. "Being from a small town in North Carolina, I thought that I would go farther and sound smarter if I got rid of it. But now I miss it. I think it is so charming when I hear other people speak." After graduation, relearning it may be at the top of her to-do list, y'all.