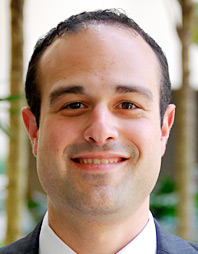 Ask David Miller what he is working on this summer at the U.S. Senate Permanent Subcommittee on Investigations or PSI and good luck getting a straight answer – "I am not at liberty to divulge the targets or the specific nature of any of the ongoing investigations."
What he can say is that he is working with a small team of high-level attorneys on investigations of major financial entities. "I apologize for not being able to give a more specific answer, but that is protocol," says Miller.
As a HOPE Fellow, Miller is spending this summer as a law clerk at PSI and is most thankful to the HOPE Public Interest Resource Center for providing stipends to law students who work in uncompensated public interest jobs during the summer.
Miller admits he would not have been able to work with PSI without the stipend. "By helping to remove the financial implications from the core of my decision-making process in evaluating working at PSI versus other more lucrative places, I was able to focus in on what is truly important: the nature of the work itself."
Miller chose to work at PSI because of his interest in public service. Since its 1948 inception, PSI has been afforded the broad investigatory power over government operations and national security issues in order to help keep government not only efficient and effective, but more importantly honest and accountable.
As a law clerk, Miller says he is given the opportunity to truly contribute in a tangible way. "I am responsible for developing legal and policy arguments, reviewing documents and evidence, preparing memoranda, writing subpoenas and helping conduct depositions, and covering events in and around Capitol Hill pertinent to PSI and my particular investigations."
The rising 2L has had the chance to be a part of some exciting hearings such as the one with Apple, Inc. in which the company was accused of creating off-shore accounts in order to avoid billions of dollars in U.S. income taxes. As Miller says, "Hopefully, efforts like that and other investigations will contribute in some way to Congress passing meaningful legislation in the area of corporate taxation." It is a problem currently acknowledged as in need of great change from both Republicans and Democrats.
While Miller is unsure as to the precise law he wishes to practice in the future, he says with certainty, "I know that it will not drift far from this intersection of legal, political, and public policy work. My experience and skills at PSI translate wherever my career may lead next, whether that is clerking, private sector work, government relations work, or continued legal work in the public sector."