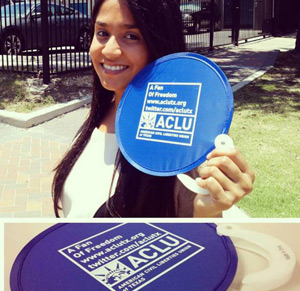 In a world that seems to revolve around currency instead of on its axial tilt, the most rewarding work for Miami Law 3L Krupali Patel is that which supports the rights of underrepresented individuals through public interest and non-profit service. Patel, a native Texan and graduate of the University of Texas at Austin, is enjoying a summer internship with the American Civil Liberties Union (ACLU) in her home state where her dedication to safeguarding the rights of others has gone all but unnoticed.
The ACLU is a non-profit organization which proclaims itself a guardian of our nation's liberty and defends the rights of individuals guaranteed by the U.S. Constitution. Patel's work at the Union grants her the opportunity to be a mentor, leader, and educator in legal matters involving the rights of juveniles, immigrants, and LGBT persons as pertaining to the First and Fourth Amendment.
In a year riddled with controversial civil rights issues and magnanimously impactful Supreme Court decisions, Patel's commitment to public interest could not be timelier. She believes "when in doubt you should always remember that someone out there appreciates the work you do and that your work has an impact on their life – even the slightest impact on someone's life can be truly life-changing."
Patel draws motivation for public interest work in knowing that equality is yet to be attained for all persons and specialized groups of people. Facing a crowd of young students at a recent ACLU engagement, Patel taught her onlookers about ongoing LGBT legal battles. The intrigue and excitement displayed by the students reminded Patel that she is in the right line of business.
Fittingly, Patel's "A ha!" moment that sparked her commitment to public interest immediately proceeded the conclusion of her internship with Miami Law's Children and Youth Law Clinic – a clinic which represents children in foster care and former foster youth. "When I finished my internship at the Children and Youth Law Clinic I never thought I would feel like I was missing something," Patel stated. The clinic ensures children have a voice in court proceedings dealing with dependency, health care, mental health, disability, independent living, education, immigration and other general civil legal matters. "Advocating and having a voice for those underrepresented is a truly rewarding experience that I wanted to keep."
Patel is wrapping up her time with the ACLU as she heads down the final stretch of her Miami Law career. She anticipates a strong finish while squeezing in time to travel, discover new exotic cuisines, and practice yoga, all of which Patel enjoys in between her studies.