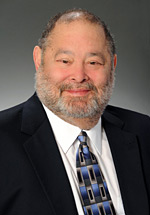 A "lawyer's lawyer" who was a highly skilled and passionate litigator, Mitchell Bloomberg passed away in May, after a long battle with cancer. His friends, family and former colleagues wish to establish an endowed scholarship in his memory at Miami Law, his alma mater
Once funded, the Mitchell R. Bloomberg Memorial Scholarship Fund will provide financial assistance to a qualified third year student who best demonstrates the integrity, passion and skills in the litigation field as exemplified by Bloomberg. Preference will be given to students who are certified legal interns for the Miami-Dade Office of the State Attorney.
"Mitch was one of those rare lawyers who was a friend to everyone and loved by everyone including those whom he litigated against," said George Yoss, JD '74, a former colleague of Bloomberg who is currently an attorney with the law firm of Kopelowitz Ostrow. "He was the epitome of a skilled professional and effective lawyer. He was also a dedicated father, grandfather and husband. And his battle for 12 years surviving cancer was a model for all of us."
Bloomberg practiced law at the Miami-Dade County State Attorney's Office, where he honed his skills to become a proficient trial attorney. When he returned to private practice, he felt that his time at the State Attorneys significantly contributed to his development as a litigator. He went on to become a partner in the law firms of Fine Jacobson, Adorno & Yoss, and Hinshaw & Culbertson.
During his time at Miami Law, Bloomberg was a member of the University of Miami Law Review. He remained a loyal Miami Hurricanes fan until his death.
"We hope that the scholarship will contribute to 'raising the bar' as to the quality of skills and ethics of young attorneys in our community and at the same time promote dedication to public service," said Yoss.