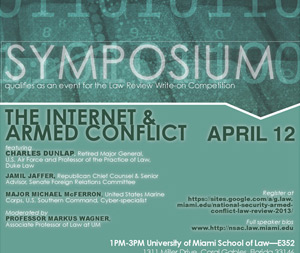 Miami Law's National Security and Armed Conflict Law Review will host a panel discussion titled "The Internet and Armed Conflict" on Friday, April 12, in Room 352 at the law school.
The panelists will be U.S. Air Force Major General Charles Dunlap (Retd.), Professor at Duke University School of Law; Jamil Jaffer, Republican Chief Counsel and Senior Advisor to the Senate Foreign Relations Committee; and Major Michael McFerron, a cyber-specialist for the United States Marine Corps, U.S. Southern Command.
The event, at 1 p.m., will focus on cyber warfare and the role of the internet in conflicts and political upheavals across the globe. Such topics have been in the news recently in the wake of the attack on the U.S. consulate in Benghazi, President Obama's executive order on cyber security, and a recent report in which U.S. intelligence leaders said for the first time that cyber attacks and cyber espionage had supplanted terrorism as the top security threat facing the United States.
Jamil Jaffer serves as a Republican Chief Counsel and Senior Advisor on the U.S. Senate Committee on Foreign Relations. Before that, Jaffer served as Senior Counsel for the Permanent Select Committee on Intelligence of the United States House of Representatives and as an Adjunct Professor at the George Mason University School of Law, where he taught a seminar on surveillance law. Jaffer served in the White House as an Associate Counsel to the President, handling Defense Department, State Department, and Intelligence Community matters. Jaffer also served as Counsel to the Assistant Attorney General in the National Security Division of the United States Department of Justice, where he handled a wide range of national security issues, with a focus on counterterrorism and intelligence matters, and in the Justice Department's Office of Legal Policy, where, among other things, he worked on the confirmations of Chief Justice John G. Roberts, Jr. and Justice Samuel A. Alito, Jr.
General Charles Dunlap, the former deputy judge advocate general of the United States Air Force, joined the Duke Law faculty in July 2010. His teaching and scholarly writing focus on national security, international law, civil-military relations, cyberwar, and military justice. Maj. Gen. Dunlap retired from the Air Force in June 2010, having attained that rank as the culmination of a 34-year career in the Judge Advocate Corps. In his capacity as deputy judge advocate general from 2006 to 2010, he assisted the judge advocate general in the supervision of more than 2,200 judge advocates, 350 civilian lawyers, 1,400 enlisted paralegals, and 500 civilians around the world. In addition to overseeing an array of military justice, operational, international and civil law functions, he provided legal advice to the Air Staff and commanders at all levels. In the course of his career, Maj. Gen. Dunlap has been involved in various high-profile interagency and policy matters, highlighted by his testimony before the U.S. House of Representatives concerning the Military Commissions Act of 2006.
Major Michael McFerron serves as U.S. Southern Command's Officer in Charge, Joint Cyber Center, where he supervises and implements cyberspace operations in support of USSOUTHCOM's mission. His immediate previous assignment was Operations Officer in Afghanistan. His other assignments have included service in support of Operation Enduring Freedom with 1st Marine Division, the 11th Marine Artillery Regiment in Camp Pendleton, CA, and the 7th Communication Battalion in Okinawa, Japan. Maj McFerron's military decorations include the Meritorious Service Medal, Navy and Marine Corps Commendation Medal (two awards), Joint Service Achievement Medal (two awards), and various service and unit awards.
The symposium will be moderated by Miami Law Professor Markus Wagner. The panel is free and open to the public.