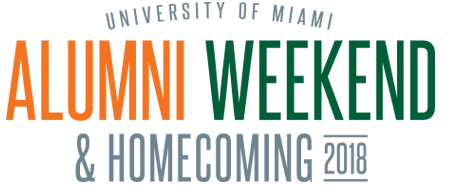 Law Alumni Association
October 30 - November 3, 2018
On behalf of the University of Miami School of Law Alumni Association, we thank you for joining us and being a part of our Alumni Weekend and Homecoming festivities.
The primary goal of these events was to bring together alumni and you exceeded our expectations, this was one of the best homecomings yet!
We greatly appreciate your participation and thoroughly hope you enjoyed the events.
See photos from the events!
OUTLaw, LGBTQ and Allies Reunion
Class of 1978 40th Year Class Reunion
Class of 1988 30th Year Class Reunion
Class of 1998 20th Year Class Reunion
Class of 2008 10th Year Class Reunion
70th Annual "Morning Spirits" and Homecoming Breakfast
A special thanks to our event sponsors and all those who participated on the Homecoming Committees.
We could not do what we do without your support!


GOLD
Assouline & Berlowe
Freidin Brown, P.A.
Law Offices of Douglas J. Jeffrey, P.A.
Shubin Bass, P.A.
Shutts & Bowen LLP
WHITE
GREEN

Lopefra Corporation
ORANGE
Carol C. (JD '88) & Hugh (JD '80) Lumpkin
Elizabeth B. Honkonen, JD '98
Garganese, Weiss, D'Agresta & Salzman P.A.
DLA Piper
Holland & Knight
For more information or any questions, please contact the Law Alumni Office at alumni@law.miami.edu or 1.866.99UMLAW.