CAREER DEVELOPMENT
Miami Law's Career Development Office (CDO) encourages prospective students to review the CDO website to learn more about the services and resources offered to students and graduates. Prospective students are also welcome to visit the CDO and meet with advisors. For prospective students unable to come on campus, advisors are also available to answer questions by phone. Please call 305-284-2668. Below are some of the programs and services offered to students throughout the year:
Fall and Spring On-Campus Interview Programs
Approximately 150 employers participate in the Fall and Spring On Campus Interview (OCI) Programs. The programs attract law firms, government agencies, corporations and public interest employers. As is the case for first-year students at most ABA-accredited law schools, first-year students at Miami Law cannot participate in the fall OCI program. However, they are eligible to participate in the spring OCI program and we strongly encourage and assist them throughout the process.
Job Postings
The CDO maintains an online searchable database of current legal employment opportunities for students and alumni. The database is updated on an almost daily basis and is accessible 24 hours a day from any computer. In addition, hard copies of all job postings are made available to students during office hours.
Job Fairs
The Law School participates in a number of job fairs throughout the year. Students interested in getting exposure to employers outside of Florida are strongly encouraged to attend these job fairs.
1L Progressive Luncheon
The CDO invites local law firms to participate in its annual 1L Progressive Luncheon Program. The 1L Progressive Luncheon is intended to give first-year law students a chance to network with attorneys and learn about the practice of law. Generally, attorneys from participating law firms attend the luncheon, usually given on campus at The Robert and Judi Prokop Newman Alumni Center, and give a brief presentation about the firm. The 1L Progressive Luncheon also serves as an opportunity for firms to showcase themselves to first-year students.
Informational Career Fair
In early March, the CDO invites attorneys from firms, government agencies, public interest organizations and corporations to visit campus to speak with students about their legal careers. During the event, students have the opportunity to ask the attorneys questions about their career choices, areas of practice and the general life of a practicing attorney. This is a great opportunity for students to get a feel for what it is like to practice law in different practice areas and with different types of employers.
Mock Interview Program
In early fall, second-year, third-year, and LL.M. students have the opportunity to participate in mock interview sessions with local attorneys. This program prepares students for on-campus interviews and students greatly benefit from the feedback they receive during these mock interview sessions.
MENTORING AND NETWORKING

The importance of networking cannot be overemphasized. Given the fact that students rarely have the opportunity to interact with busy practitioners in a close setting, networking and mentoring affords our students a unique and meaningful experience. Miami Law provides an array of opportunities for students:
Coffee Connectors
Coffee Connectors Network provides law students and alumni with opportunities to connect with Miami Law alumni across the country. With our network of alumni, our law students and alumni can connect with a diverse group of attorneys, obtain opportunities to learn about different practice areas and ultimately receive assistance to transition from law school into practice.

With more than 24,000 alumni worldwide, the Miami Law alumni network is an amazing resource – professionally and personally.  
---
UNetworking
"Our networking is one of the most outstanding abilities on our campus...I was able to meet our general counsel through our Evening with Esquires UNetworking event."
Alessandria San Roman, J.D. '18 discussing her work with Bacardi USA
The University of Miami School of Law's UNetworking initiative provides students the opportunity to meet and speak one-on-one with attorneys and judges from the local Miami community. To provide a forum for students to speak to attorneys and, the AskUs team arranges several UNetworking events throughout the year and several Miami Law students have landed internships and jobs from their attendance at UNetworking events. These events include:
Breakfast with the Bench
At Breakfast with the Bench, students will have the opportunity to enjoy breakfast with state and federal judges in South Florida to learn more about judicial internships and postgraduate clerkships. Breakfast with the Bench is open to all 1Ls, 2Ls, 3Ls, and LLMs and is free to students. For information contact askus@law.miami.edu.
WATCH: Greg Fritzius interned with the Miami Dolphins Football Legal Department & Hard Rock Stadium in 2019, "I was able to get the job through the Career Development Office and actually met one of the hiring attorneys that works there through the Evening with Esquires in February."
Evening with Esquires
At Evening with Esquires, students will have the opportunity to enjoy dinner with local attorneys representing different fields of law in South Florida. In the past we have invited lawyers practicing in the following areas of the law: Real Property, Trusts & Estate, Environmental / Maritime, Family Law, Tax Law, Entertainment Law, Sports Law, Business and Corporate, Bankruptcy, Intellectual Property Law, Litigation, and Criminal Law. For information contact askus@law.miami.edu.
---
Legal Grounds
Legal Grounds is an initiative that allows students to interact with professors 1-1 to discuss courses, academics and post-grad opportunities, and provides an opportunity to students, faculty and administration to enjoy coffee and bagels in an informal setting. It occurs every Thursday from 8:30-10:30am on the Bass Bricks, and is an initiative started by the AskUs program in collaboration with Professor Andres Sawicki. Legal Grounds is sponsored by LAFAC. 
What people say:
"Coffee and bagels are the great equalizers! Legal Grounds is one of the few opportunities during the class week where you can informally pal around with administration and faculty and pick their brains about anything like current events or things that are happening during class."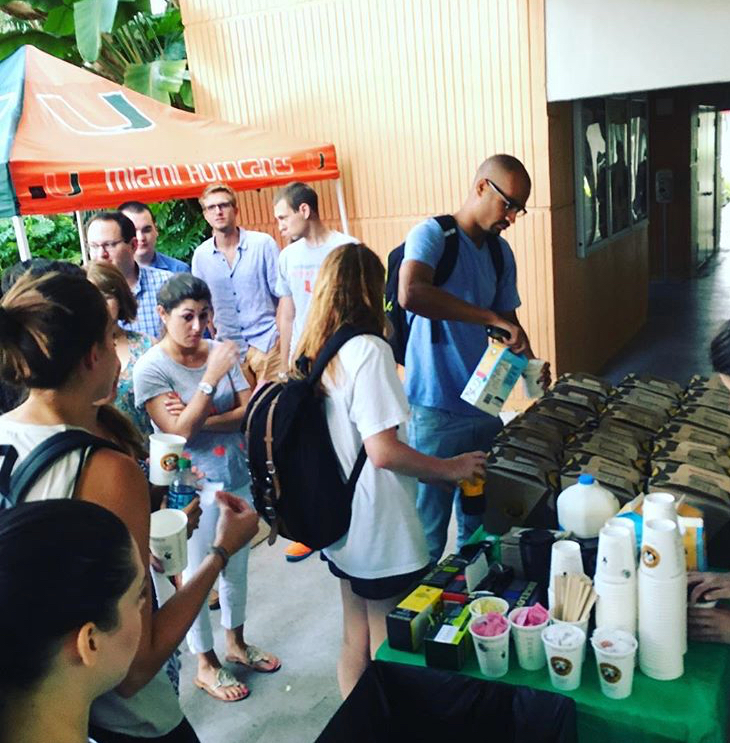 -Alice Kerr, Class of 2020 
"Legal Grounds is a great way to bring students, administrators and faculty together in an informal setting. I met a fantastic 1L student at the AskUs tent during Legal Grounds last week and have since offered him a position as my research assistant in the Human Rights clinic. I'm not sure our paths would have crossed otherwise, so I am very grateful I stopped by Legal Grounds."
-Carrie Bettinger–Lopez, Director of the Human Rights Clinic and Professor of Law
 
---
​Table of Eight
The University of Miami School of Law Young Alumni Committee hosts a monthly Table of Eight dinner which offers Miami Law young alumni an invitation to dine with a distinguished Miami Law alumnus. Seating is limited to seven young alumni on a first-come, first-served basis. (These are not fundraising events and the event covers the meal and related charges.) For more information contact Jesse Barone, Coordinator, Alumni Communications and Research at: jbarone@law.miami.edu or call 305-284-3470.
---
Partnership for Professionalism
Now in its 26th consecutive year, Partnership for Professionalism is scheduled in the fall and spring of each academic year. Judges, attorneys, and law students attend informal roundtable discussions during a buffet dinner. At each of the tables are seated a judge, three attorneys, and six students.  Prepared scenarios that present issues of civility, ethics and professionalism are discussed at each table, followed by summations by the students coordinated by MiamiLaw alumni. Many of the judges and attorney participants are veterans of the programs attended while they were students at the University of Miami School of Law.
Scenarios are suggested from real-life situations and are offered by judges and attorneys from the community. The evenings are interesting and rewarding, not only for the student participants, but also for the many judges and attorneys who assist in the development of civility, ethics, and professionalism in our South Florida legal community. The coordinator of Partnership for Professionalism is Assistant Dean for Professional Development William P. VanderWyden.  Alumni are encouraged to contact him for suggested ideas and for participation in future meetings: wvander@law.miami.edu  
Workshops and Guest Speakers
CDO advisors hold workshops throughout the year on resume and cover letter writing, interviewing and networking skills, job search strategies and other topics. Invited guests also come to speak to students on a variety of legal and career matters. For example, representatives from various government agencies, such as the U.S. Department of Justice, the FBI and the Florida Attorney General's Office, usually visit campus to inform students about employment opportunities at their organizations; partners and associates from law firms have given presentations on topics from business etiquette to tips on how to survive the first year in practice; and officers from various bar associations have come on campus to share networking tools and ideas with students.
For more information related to career planning and professional development, including CDO services, events and opportunities, be sure to visit the CDO blog.
---
Frequently Asked Career Questions By Prospective Students
Q: How is the legal job market and what are prospects for getting a good job after graduation?
A: The definition of a "good" job after law school is different for every student. The Career Development Office helps students with one of the most difficult questions they face in law school - what is a good job for each student. Through individual counseling sessions and comprehensive career programming, the CDO exposes students to a multitude of practice areas and practitioners, and personally helps students identify their own skills, interests, and values. The legal market is always competitive, and it is not unusual for law graduates to change jobs several times within five years of graduation.  The CDO office ensures students have the job search and job readiness skills to land a first job, and take charge of future career management.
Q: How much money can one expect to earn upon graduating from Miami Law?
A: Salaries vary enormously depending on the type of law an individual wants to practice and the setting in which law is practiced. Starting salaries of recent UM grads ranged from $30,000 to $150,000. Law firms in the private sector pay more than government and public interest positions, and larger firms pay more than smaller firms do. Salaries of Miami Law grads are on the whole comparable to the national average salaries calculated by the National Association of Law Placement.
Q: Can the CDO help secure a job outside of Miami?
A: The University of Miami School of Law has a strong national reputation and assists graduates in securing jobs across the country. Miami Law alumni can be found in almost every state and internationally. The Career Development Office gladly helps students looking to begin their careers in other cities by networking with alumni in those cities and identifying potential summer clerkship and clinical placements. The CDO also participates in national job fairs such as the Southeast Law Placement Consortium where UM students have the opportunity to secure interviews from employers nationwide. The office continuously markets the quality of Miami Law's student body to employers across the country. Not surprisingly, however, many graduates fall in love with South Florida and decide to remain in the area, even though they have opportunities elsewhere.
Q: If one's goal is to become a lawyer to make a difference, how can the CDO help a student find a public interest job?
A: Several CDO advisors come from careers in the public sector and are well-versed in the public interest opportunities that are available, and help students every step of the way, from crafting a public interest resume, to drafting a grant proposal. Miami Law students have been quite successful in securing post-graduate public interest employment. Graduates work in public interest agencies and organizations throughout the country, and students have been awarded many prestigious Equal Justice Works and echoing green post-graduate fellowships, where they have been able to craft their own jobs doing what is most important to them. There are many ways to have a satisfying career in the public sector, and the CDO is here to help!
Q: What if a student doesn't know what type of law he or she wants to practice?
A: Relax and join the club! Most entering law students are not sure what type of law they want to practice, or even if they want to practice at all. For that reason, the CDO offers extensive educational programming and career exploration opportunities. In the first year alone, students are invited to attend cocktail receptions at local law firms and meet attorneys on campus to hear firsthand what different areas of the law entail. Over the course of a law student's three years, the CDO helps students focus and define career interests, whatever they may be. The important thing to know is that a law degree will be a valuable tool in any job search.
For More Information